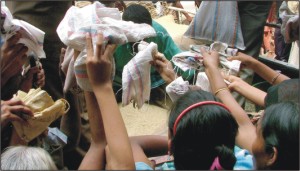 An ominous shortage of rice globally is looming large over the rice consuming countries of South Asia, of which Bangladesh tops the list. It appears the rice producing countries of this region are no longer capable of producing the quantity of rice required for feeding the ever increasing population, forcing them to stop their rice export. Re-fixation of the export price of rice at $1000 per ton abruptly, instead of $500, by India is a glaring example of how alarming the situation is. The cost of rice if imported at this rate will be not less than Tk.80 per kg. which the people of this country will never be able to buy. Undoubtedly, Bangladesh is going to be the worst affected country as it needs to feed over 150 million people whose staple food is rice, a large portion of which is imported. Therefore, it is high time short and long-term strategies are formulated and measures adopted to tackle the situation before it is too late.
Let us not forget our failure in taking timely action to meet the shortage in our future electricity and gas requirements during the last 37 years, for which the country has to pay very dearly now. The policy makers and the leaders of the previous governments neither had the foresight and capability to understand, nor the will to take necessary steps to meet the challenge of future shortage in the energy sector. Let us learn from our past mistakes. Procrastination will not solve our problems.
Therefore, the issue of food security at present and in future demands immediate attention to obviate the impending famine like situation. Everybody realizes the adverse impact of food shortage on the economic, social and political situation of the country which may drive the nation completely overboard. Building a buffer stock of at least six months is needed to meet the present requirements based on correct statistics to avert a crisis. As suggested by the Bangladesh Bank Governor, foreign currency reserves could also be utilized to import food grains without any further delay. Import of all luxury goods, non essential items including cars and expensive vehicles for personal use should be discouraged to make foreign currency available for import of food grains. The people should also change their food habits.
Proper publicity, particularly at village level, by the government may prove effective in changing our food habit. There is no alternative to boosting production of food grains in the country and for this purpose supply of fertilisers and uninterrupted supply of electricity for irrigation are essential. The entire agriculture department should be restructured to provide all kinds of assistance to the farmers.
The population control department appears to have gone into hibernation with 'zero' activities in the last so many years. With accurate and reliable data, a plan should be drawn up to control the population boom. We must get rid of this curse-- the sooner, the better.