Jamaat, Shibir strike terror
Attack on police across country, blast bombs, smash 200 vehicles in protest against war trial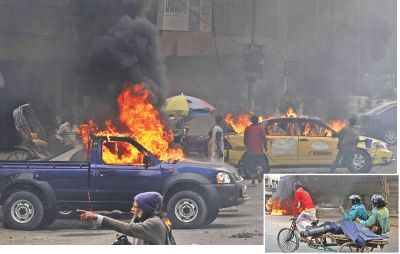 Jamaat-e-Islami and its student wing Islami Chhatra Shibir yesterday unleashed terror on police in the capital and elsewhere to mount pressure on the government to stop the war crimes trials.
Once again, their hit-and-run assaults caught the law enforcers off guard in Dhaka, Chittagong, Rajshahi, Dinajpur, Joypurhat and Satkhira.
The Jamaat-Shibir mayhem left at least 70 people, including 50 cops, injured. A policeman and an auto-rickshaw driver in Chittagong suffered bullet wounds as Shibir activists opened fire.
They smashed around 200 vehicles across the country.
Neither Jamaat nor its student wing had called a programme for yesterday.
But around 10:00am yesterday, the Jamaat-Shibir men brought out militant processions simultaneously in Dhaka, Chittagong and Rajshahi cities, welding firearms, sharp weapons, iron rods, hockey sticks and brick chips.
The activists from one such procession in the capital's Motijheel area started exploding bombs and beating up cops, sending a wave of panic among passengers, pedestrians and employees of roadside offices and business houses.
They gradually spread to Dainik Banglar Mor, stadium market, Paltan, Bangladesh Secretariat, Jagannath University, Dhaka University and Dhanmondi areas and rampaged for over an hour.
Traffic in Motijheel, Paltan and Gulistan and Jatiya Press Club areas remained suspended for over an hour.
Four vehicles were torched and many others vandalised.
Some cops were seen running for safety while some tried to fight back. Those who took shelter in nearby offices were hunted down by armed cadres and beaten up.
Surprisingly, law enforcers did not use newly introduced pepper sprays on the attackers.
Anwar Hossain, deputy commissioner (Motijheel) of police, said they fired more than 250 rubber bullets and 100 teargas canisters. Police also arrested 48 activists with bottles of petrol.
Police also fired over a hundred rounds from Chinese rifles and shotguns.
Following the attacks, Finance Minister AMA Muhith said the violence had proved intelligence failure.
He added, "I thought the militancy has been wiped out, but today's incident shows that I was wrong."
He made the comments after visiting Rajarbagh Police Lines Hospital where Constable Delwar Hossain, a member of the unit that escorts the minister, was admitted. The policeman was severely injured in an attack near Bangladesh Secretariat.
Talking to journalists at the secretariat, Home Minister MK Alamgir did not with Muhith. "I do not find any failure of police or intelligence."
Surprisingly, Inspector General of Police Hassan Mahmood Khandker claimed they already had information on the Jamaat-Shibir plan for yesterday. "As police played due roles, Jamaat and Shibir could not carry out criminals activities completely as per their plan."
The attack in front of the secretariat took place around 10:15am, not more than five minutes after Prime Minister Sheikh Hasina had entered the secretariat to hold a cabinet meeting.
On condition of anonymity, two sub-inspectors of the VIP Protocol Unit, said during the attack, the policemen, who were on duty for the security of the secretariat and ministers, took shelter inside the compound closing the main gate.
They said those who failed to enter the secretariat became easy prey for the rioters. Some cops, however, fired gunshots from inside.
The attackers ran away when additional forces came.
Asked how come such violence sparked in front of the secretariat where the PM was present, DC Nurul Islam said, "The Jamaat-Shibir men carried out the attacks and vandalisms while fleeing after they were chased by the police from Stadium Market area."
Four cases were filed last night in connection with the violence in the capital.
Two cases -- one under Speedy Trial Tribunal Act and the other under Explosive Act -- were filed with Paltan Police Station against 17 identified and five to six hundred unidentified persons.
In the two cases filed with Motijheel police station, police named 30 persons while accused 400-500 unidentified persons.
Also yesterday, at least 12 people, including 10 policemen, were wounded in a clash between Jamaat and police in Banshkhali upazila of Chittagong.
Of them, auto-rickshaw driver Nurul Huda and Abdul Momen of Paschim Chambal of Banshkhali were hit with bullets.
Nurul Huda was admitted to Chittagong Medical College Hospital (CMCH) with wound in the head and Momen with injury in the abdomen.
Of the seriously injured policemen, Sub-Inspector Md Ataul, and constables Md Quader, Ahabul and Kashem were also rushed to the CMCH, said Sub-Inspector Md Zahir of Banshkhali Police Station.
The trouble in Banshkhali began at noon as police asked the Jamaat-Shibir activists not to put up a banner. The banner read the demand for release of Delwar Hossain Sayedee, now facing trial for committing crimes against humanity during the Liberation War, 1971.
According to police sources, Jamaat's Banshkhali unit Ameer Jahirul Islam was arrested in connection with the violence, reports Prothom Alo.
Chittagong district (south) unit Jamaat called a dawn-to-dusk hartal for today protesting the arrest of Jahirul Islam, a party statement said.
In Satkhira, Jamaat men attacked law enforcers and vandalised a police van after they brought out a procession in Sundarbans Textiles Mill area at about 5:00pm demanding release of their leaders who are accused of war crimes.
Seven policemen were injured in the attack.
Law enforcers arrested two Shibir activists in connection with the incident.
In another incident, five persons were injured when around 40 to 50 Shibir men attacked law enforcers and hurled at least 10 cocktails at the policemen from a procession at Binodpur in Rajshahi around 10:00am.
The law enforcers lobbed teargas canisters and fired rubber bullets to disperse the attackers, said Shah Golam Mahmud, deputy commissioner of Rajshahi Metropolitan Police (east zone).
Police picked up seven people after the clash, he added.
In Dinajpur, Jamaat men indiscriminately beat up Md Mamun, a sub-inspector of Dinajpur Kotwali Police Station, in the morning leaving him injured. They also vandalised two police vans.
Jamaat activists launched the attack on law enforcers after they brought out a procession from Nimtola intersection in the town at around 10:10am demanding release of their detained leaders, said Md Abdul Kader Zilani, officer-in-charge of the police station.
Police arrested two Shibir activists from Amtoli intersection in the town while Shibir men were staging a demonstration and setting fire to tires in the morning.
Witnesses and police said Shibir men brought out a procession at Laxmipur intersection at around 5:00pm. As police intercepted the procession, they went away. Minutes later, several hundred Jamaat-Shibir activists took out a sudden procession from RMCH main gate, damaged vehicles and blasted cocktails.
CONDEMNATION
Federation of Bangladesh Chambers of Commerce and Industry (FBCCI) and cultural personalities yesterday condemned the Jamaat attacks on police and vandalism across the country.
The FBCCI expressed concern over the attacks and condemned Jamaat for attacking police, damaging and setting alight vehicles and blasting cocktails in the capital and other parts of the country.
Such vandalism in Motijheel, the commercial hub of the capital, during office hours created panic among people and caused huge losses to businesses, FBCCI said in a statement.
In a statement, 251 cultural activists of Bangabandhu Sangskritik Jote criticised the Jamaat vandalism, and said Jamaat-Shibir men are carrying out such attacks to protect war criminals.
Arun Sarkar Rana, general secretary of the organisation, actors Aly Zaker, Ferdousi Majumdar, Alamgir and Pijush Bandopadhyay are among the signatories.