Tahrir activists clash with cops
39 held as the banned outfit brings out procession in city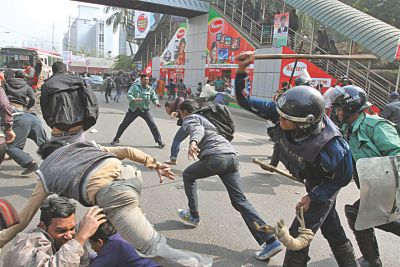 Law enforcers yesterday detained 39 suspected activists of banned Islamist outfit Hizb ut-Tahrir following a clash with them before the Jatiya Press Club in the capital.
During the clash, police fired rubber bullets and tear gas and charged batons to break up the Tahrir men, who retaliated with exploding hand-made bombs and throwing brick chips.
The skirmish left at least 10 people including several pedestrians and police injured.
Witnesses said around 200 members of the outlawed group brought out a procession before the Bangladesh Medical Association (BMA) building (opposite to the Jatiya Press Club) on Topkhana Road around noon.
When police intercepted the procession, the Tahrir men launched attack on the law enforcers, prompting them to fire at least five tear gas canisters and six rubber bullets.
At one stage, Rab personnel joined with police and rounded up the activists.
A banner and some leaflets were seized from the detainees, said Shahbagh police.
Contacted, Lt Col MM Anisur Rahman, commanding officer of Rab-3, said the Tahrir men usually show up on Fridays, but they gathered yesterday to carry out subversive activities at an Awami League rally at the Suhrawardy Udyan.
The Hizb ut-Tahrir was banned on October 22 in 2009 and since then, over 700 of its leaders and activists have been arrested by the law enforcers.