6 Fugitive Bangabandhu Killers
Govt to confiscate their properties
But it has no clue about their assets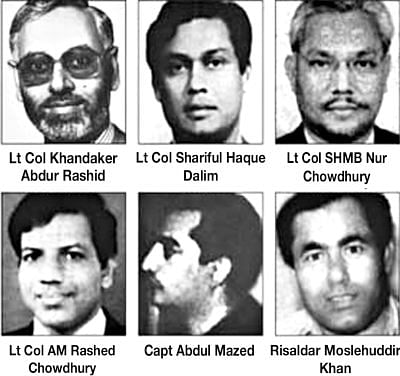 The government yesterday decided to confiscate the properties of the six fugitive convicted killers of Bangabandhu Sheikh Mujibur Rahman.
Two of them are now in the US and Canada, but the government has no specific information about the whereabouts of the four others.
The six fugitives are Khandaker Abdur Rashid, Shariful Haque Dalim, Nur Chowdhury, Rashed Chowdhury, Abdul Mazed and Moslehuddin Khan.
Yesterday's decision came at a meeting of the taskforce on bringing them back to the country.
The government is now trying to find out where and how much property the fugitive convicts have, Law Minister Shafique Ahmed told The Daily Star after the meeting at his secretariat office.
Their properties could have been confiscated during the trial in accordance with the law, but no decision was then made to this end, he added.
The minister, however, would not reply to a query as to why the government was so late to decide on the matter.
In 2009, the Supreme Court upheld the death penalty of 12 killers, including the six fugitives. Of the 12, Syed Farooq Rahman, Sultan Shahriar Rashid Khan, Bazlul Huda, AKM Mohiuddin Ahmed, Mohiuddin Ahmed were executed on January, 27, 2010. Another convict, Aziz Pasha, died in Zimbabwe in 2001. The trial began in a Dhaka court in 1997.
A top official present at yesterday's meeting said the government would find out their properties through the sub-registrars offices.
The law minister told reporters that the government had decided to request the Bangladesh missions and the governments of the countries where the convicted killers are suspected to be hiding not to issue any passports or visas to the killers.
Also, the government has appointed two law firms in the US and Canada for bringing back the convicted killers, he said, adding that Nur Chowdhury had been staying in Canada and Rashed Chowdhury in the US.
The government has information that the four others were seen in Pakistan, India, Kenya and Australia.
Home Minister Muhiuddin Khan Alamgir, Attorney General Mahbubey Alam and Inspector General of Police Hassan Mahmood Khandker were also present at the meeting.