Miracle herbal cosmetic maker lands in jail
Products of Botanic Aroma found to be highly harmful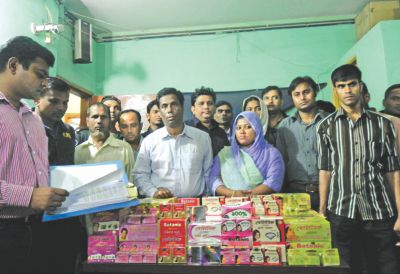 A mobile court in Dhaka yesterday sentenced the managing director of a cosmetics company, his director wife and a supervisor to two years' imprisonment for using harmful substances in the company's products.
Mohammad Asaduzzaman Liton, managing director of Botanic Aroma, his wife Ferdousi Akhter, a director of the company, and Akhter Bepari, a supervisor, were also fined Tk 1 lakh each in default of which they have to spend three more months in jail.
The court also fined six company staff Tk 1 lakh each.
The mobile court with the help of Rab personnel launched a drive in Botanic Aroma's factory in Keraniganj in the morning and arrested nine people including the company's managing director. The court later delivered the verdict in the afternoon.
Executive Magistrate Anwar Pasha, who was accompanied by officials of Bangladesh Standards and Testing Institution in the drive, said the factory had been sealed, and all the products and equipment there had been seized.
Captain M Sohail, director of Rab's legal and media wing, told The Daily Star that the company has BSTI's approval but it was using ingredients that were not in the BSTI's guidelines.
The magistrate said the cosmetics company had been using toxic substances, including mercury, in their products.
Citing a report of Department of Dermatology and Venereology at BSMMU, he said the chemicals are toxic to kidney and brain, and could lead to severe health problems.
Magistrate Anwar said Rab-1 officials collected samples of the company's herbal products from the market in the last one month and later got them tested at BSTI and Bangladesh Atomic Energy Centre.
Presence of toxic chemicals and ingredients was found in the cosmetic products of Botanic Aroma. The drive was launched based on the findings, he said.
Anwar said they also consulted a number of medical experts at Bangabandhu Sheikh Mujib Medical University (BSMMU) on the negative impact of those chemicals on human body.
In a report, the experts at BSMMU said cosmetics containing mercury are hazardous to health and may cause skin rashes and skin discolouration as well as reduction of resistance to bacterial and fungal infections.
The six company staff, who were fined Tk 1 lakh each, are General Manager MA Hasnat, Quality Control Manager Abdur Rouf, Production Manager Nurul Islam, Assistant Production Manager Emdadul Huq, and Abdus Sobhan and Mohammad Wahiduzzaman.