Indo-Bangla relations stronger than before
Says Indian minister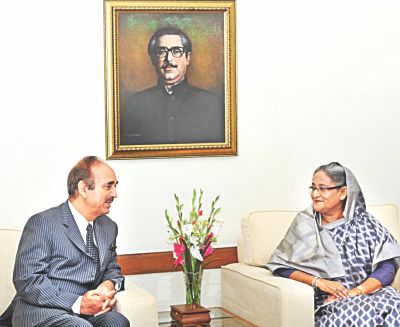 Visiting Indian Health and Family Welfare Minister Ghulam Nabi Azad yesterday said the relations between Bangladesh and India are now stronger than ever before.
He also said there is a scope to expand the cooperation between the two neighbouring and friendly countries in the health sector.
Azad came up with the remarks when he met Prime Minister Sheikh Hasina at her official residence Gono Bhaban.
PM's Press Secretary Abul Kalam Azad briefed reporters after the meeting, saying the two sides elaborately discussed various issues of common interests.
The prime minister recalled the contributions of India to Bangladesh's Liberation War in 1971.
The Indian minister appreciated Sheikh Hasina's able and pragmatic leadership, and for the tremendous development in the country.
Health Minister AFM Ruhal Haque was also present.