Remittances soar as Eid nears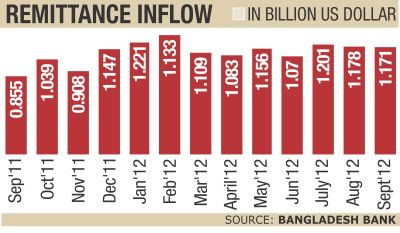 Remittances increased 37 percent in September, compared to the same month last fiscal year, despite a financial crisis in major economies across the world.
In September, the remittance inflow was $1.17 billion, up from $855.44 million in the same month last year.
Remittance growth was 20 percent in the first three months of the current fiscal year, which also boosted the central bank's foreign currency reserve.
During the July-September period, remittance inflow was $3.55 billion, which was $2.97 billion during the same period last year.
A Bangladesh Bank official said the foreign currency reserve has started to go up due to the remittance growth. On September 25, the reserve was at $11.27 billion, which was around $9 billion on the same day last year.
The expatriates are sending home more money due to the upcoming Eid-ul-Azha, the official added.
He said the central bank has taken various steps to bring home more remittances through formal channels.
Mobile banking also played a role in increasing remittances, the official said.
Another BB official identified three reasons -- banks' drive, market expansion and anti-money laundering law -- behind a rise in remittances.
Bangladesh had received $2.5 billion in remittances a decade ago, but the amount reached $12.84 billion last year.
If the trend continues, the central bank officials hope the remittances will stand at $14 billion in the current fiscal year.