Tribute to Abdul Alim
Remembering a timeless voice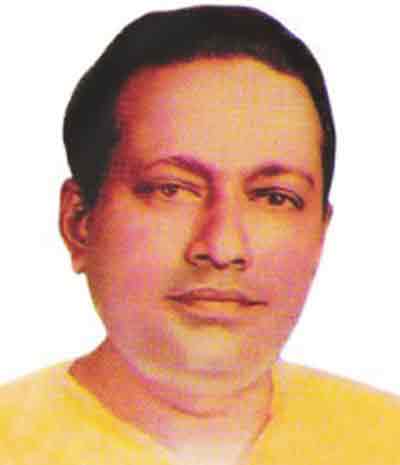 Abdul Alim (1931-1974) a brilliant folk singer possessed a melodious and gifted voice, which is yet to be surpassed by any other folk singer of our country. His presentation was simply magical. His songs epitomised the very essence of folk culture and mesmerised listeners across the country. Indeed, he played an important role in popularising this form of music. With such a life of achievement it is unfortunate that his death anniversary is observed unceremoniously and he is now almost a forgotten chapter.
Alim migrated from Murshidabad (West Bengal) to Dhaka after partition (1947), and joined the Dhaka Radio Station as a staff artiste.
From a very young age Alim's musical senses were honed from listening to the gramophone records. By the age of 14 he had already recorded two songs for the company. While performing songs at the Alia Madrassa in Calcutta (now Kolkata) he gained immense popularity among the connoisseurs of music.
In Dhaka, he took lessons from Ustad Mohammed Hossain Khosru for some time. During his career, as a folk singer he performed at a number of music conferences. At the All Pakistan music conference in Lahore, Alim was awarded five gold medals for his remarkable performance and contribution to music. He recorded songs for "Mukh O Mukhosh", the first film ever to be produced in the erstwhile East Pakistan. Subsequently, he continued to record songs at a prolific rate.
The folk songs are inherent treasures of the riverine Bangladeshi culture. The songs express the hopes and frustrations of young hearts and it also upholds the life and culture of the different regions. Bhatiali songs, sung mainly in riverine regions of Mymensingh and the low lands of Sylhet, are meant to replicate the energy and timelessness of the rivers that have been flowing from time immemorial.
People who have heard Alim's presentation of Naiya rey nayer badaam tuila, Duarey aishachey palki, Premer mora jole dobe na, Holudia pakhi shonar boron, Amare shajay dio nowshar shajey, Porer jaiga porer jomi, Mon-e boro asha chhilo jabo Modina-e, Sharbonasha Padma nadi rey, Babu selam baare bar, Shab shakhire par korite nebo ana ana, Ujaan gang-er naiyya and countless other songs will find it difficult to forget his presentation and artistic skill in voice modulation and holding a tune without break which seemed like an eternity. Abdul Alim's talent in such Bhatiali songs were a treat to the listeners. Many say his passion was all-encompassing.
He recorded over 300 Gramophone records and sang playbacks in over 100 films. He won the National Award (1974) posthumously for playback in "Shujan Shokhi" directed by Khan Ataur Rahman.
Eminent Nazrul singer Sohrab Hossain, a very close associate of Alim, often filled us on humorous anecdotes on their long friendship. "He was very afraid of heights, and dreaded the government delegations which were sent to far away countries by plane.
"Then there were times when the microphone had to be kept at a fair distance to avoid distortion while recording a song because of his powerful vocal range," Sohrab Hossain would reminisce.
Stout and short in stature with deep penetrating eyes, Alim was a man of simple habits. Many who have seen Alim perform on stage or at the BTV will remember him in his simple, white pajama-panjabi. Popularity never drove him into illusory glamour.
Folk songs are so central to our culture that it seems a shame that the works of such artistes as Abdul Alim are not readily available to the listeners. Bangladesh Betar (radio) should have taken initiatives to preserve the golden voices of the yesteryears. Our recording companies have a role to play too. Many countries put in rigorous work to preserve their national treasure of songs, either by reprinting, editing, re-making (with new artistes); in comparison we seem happy to exile our artistes to footnotes.