Private airlines take off, aim higher
4 new airlines to make most of Biman failure, growing demand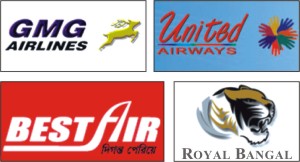 Aviation industry marks a boom with the launch of three private airlines in last eight months and another set to start commercial flights next month, thanks to a steadily growing demand for air transport.
Private airline operators say the industry is growing by 7.5 to 8 percent every year, adding, the market size of passengers is worth around Tk 3,500 crore.
"The aviation industry witnessed a 7.6 percent growth globally last year and it was also the same in Bangladesh," said Captain Tasbirul Ahmed Choudhury, chairman and managing director of United Airways (BD) Ltd, which started operation in July 2007.
Apart from United Airways, Best Air made its debut in mid-January and Aviana Airways, with the brand name Royal Bengal, in late January, both on domestic routes so far.
Earlier, GMG Airlines was the only private airline operating on domestic routes along with national flag carrier Biman Bangladesh Airlines Ltd.
Anmole Albab Airlines Ltd, another local private airline, under the brand name of A2 Air is set to operate international passenger flights from Bangladesh in March this year. Initially, it will operate flights to the Middle East and Far Eastern countries.
"We have already completed all the procedures to collect two Boeing-747 aircraft to operate flights on international routes," said Wahidur Rahman Rana, chief financial officer of Anmole Albab Airlines.
Retired employees of Biman also formed a body last year to float a new private airline.
Non-resident Bangladeshis' contribution to the industry is significant as they, mostly from the UK and the US, have launched two of the four private airlines.
These airlines are operating flights with 10 different aircraft. GMG has seven aircraft in its fleet with two Dash-8, three Boeing MD-80, one Boeing 737 and one Boeing 747.
United Airways has one Dash-8-100, Best Air one Boeing 737, and Aviana Airways has one Dash-8-100.
The private airlines are also planning to add more aircraft to their fleet so that flights can be expanded to international destinations.
United Airways has already purchased another Dash-8-100 and signed a letter of intent with a Singapore-based company to lease an Airbus A300-310. The airline is also negotiating to lease a Boeing 747-300.
Best Air is going to add another Boeing 737 to its fleet by March this year.
The new private airlines are operating domestic flights on Dhaka to Chittagong, Cox's Bazar, Sylhet and Jessore routes so far.
Besides, GMG is operating international flights on Dhaka to Kolkata, Delhi, Kathmandu, Bangkok, Kuala Lumpur and Dubai routes.
The other private airlines are also planning to launch international flights.
"It'll be very difficult to survive by operating only on domestic routes; it's very much essential to go for international routes," said Tasbir of United Airways, founded by non-resident Bangladeshis mostly from the UK.
He also said they are now waiting for the government nod to operate international flights on Dhaka-Dubai-London, Dhaka-Kuala Lumpur, Dhaka-Dubai, Chittagong-Dubai, Dhaka-Kolkata, and Dhaka-Kathmandu routes.
Like United, Best Air is also planning to launch international flights. "We'll start our international flights on Dhaka-Bangkok route in March this year and on Dhaka to Kuala Lumpur, Kolkata, Chennai and Dubai routes within next six months," said Mohsin Rana, acting manager (marketing and sales).
The private operators said seat utilisation of their aircraft ranges from 30 percent to 60 percent.
The ever-growing demand for air transport on international routes prompted them to go for international flights, they added.
Around 40 lakh passengers fly from Zia International Airport (ZIA) to different foreign destinations every year, while about 1.8-2.4 lakh more aspiring passengers cannot go to the Middle East due mainly to seat crisis, observed Wahidur Rahman of Anmole.
Referring to a study, he said the possibility of getting a ticket to a European or American destination just before a week is only one to two percent.
The possibility stands at 20 percent if the passenger tries one month before the journey, he added. "So, there is a huge scope for Bangladeshi private carriers to operate here and it will be no problem if another two to three private airlines join the industry."
Biman Bangladesh Managing Director and Chief Executive Officer MA Momen welcomed the new private airlines to the country's aviation industry. He said this will create competition among the local private airlines and make them provide standard services.
"With expansion of business and tourism, people's movement is increasing day by day and they are now looking for faster transport like airplanes. That's why the demand for air transport is also increasing," said Habibur Rahman, managing director of Aviana Airways.
"If foreign carriers can do business in Bangladesh, why can't we?" he asked.