Basic RMG exports to shape the future
World Bank suggests efforts to improve trade logistics, workers' skills and labour standards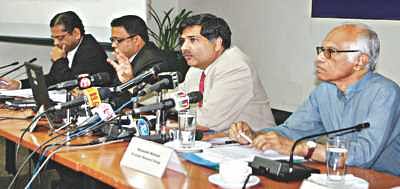 The exports of basic garments will continue to be important in future but Bangladesh's competitive advantage in the area could erode over time, the World Bank said in a study yesterday.
To accelerate exports, the study suggested consolidating existing strengths in basic garments and at the same time, diversifying into other products such as higher-value garments and services sector.
"Forward-looking policymaking requires that measures be put in place now to encourage such diversification in future, while building on existing strength," said the study released at a function at the World Bank office in Dhaka.
The study, 'Consolidating and Accelerating Exports in Bangladesh', showed that the infrastructure deficit, especially energy, lack of appropriate skills and a weak regulatory environment continue to hinder exports from Bangladesh.
To overcome these, the study suggests improving trade logistics and workers' skills and complying with labour standards. The study also suggests graduating to high-end garment items from basic products to be more globally competitive in future.
According to industry leaders, basic garments account for 75 percent of the nation's total garment exports. Bangladesh exports $18 billion worth of garment products a year.
The WB study examines the prospects for diversifying into IT-enabled services, a sector that is growing fast worldwide and can provide high-quality jobs.
The study showed an inter-link between increasing per capita income and the export of garments. It said evidence from garment-exporting countries suggests that there is a 'threshold' level of per capita income, after which per capita garment exports begin to decline.
For instance, the real per capita export of garments in Thailand grew until it reached a threshold per capita GDP of about $2,000, which was about $1,000 in the Philippines, and around $1,150 in Sri Lanka.
"Before reaching this threshold, a country's export basket shows a relatively diversified mix of basic-and-higher-value garments," the study said. This is because the increasing pressure on wages and benefits erodes competitiveness in basic garments, according to the study.
Efficient logistics will give Bangladesh a competitive edge in the export of basic-and-medium value garments, but the lack of skills is becoming a key constraint to growth in exports, and the gap will become more acute as Bangladesh moves into producing higher-value garments, it said.
"The lack of skilled workers could increase the overall cost of production through the high rates of rejection of final products for defects," the study said.
Compliance with internationally-acceptable labour standards is becoming increasingly important for consumers in the US and EU -- the main markets for garment exports from Bangladesh.
Among other reasons, compliance with labour standards is important because it involves externalities; experience in Bangladesh has shown that even if one firm fails to comply with labour standards, the resulting public attention can have negative repercussions for the entire industry, according to the study.
At the launching ceremony, Mustifizur Rahman, executive director of private think-tank Centre for Policy Dialogue, urged the government to strengthen the south-south trade dialogue as new markets are opening up for Bangladesh.
Bangladesh has a lot of opportunity in garment exports, but the country urgently needs enforcement of labour standards. "Owners and labour relations have been underestimated for years," he said.
"Bangladesh's current cost advantage in the garments sector may not be adequate to compete globally as the country moves up the value chain," said Sanjay Kathuria, lead country economist for World Bank Bangladesh and co-author of the report.
The country must improve logistics to ensure that exports as well as imported inputs are shipped in time, cost-effectively and reliably, which are important to ensure sustained growth in existing areas of strength, he said.
"Consumers who buy Bangladesh's products are becoming more discerning about their buying decisions," said Md Abul Basher, an economist at World Bank Bangladesh and co-author of the report.
"The government will need to work closely with the industry to ensure that its labour standards are properly implemented, and also support firms to relocate factories from residential to industrial buildings that are better equipped to provide safe working conditions," he said.