The genius of Humayun Ahmed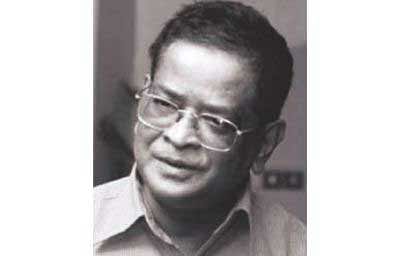 Humayun Ahmed is perhaps the only writer in Bangladesh who has the highest number of admirers as well as detractors. You will hardly find any literate Bangladeshi today who has not read his books, and, at the same time, you won't find any literary critic who has not looked askance at his writing. A lot of people praise his books to the skies. Equally a lot of others see in them a manifestation of decline in literary standards.
I have seen many critics, who have the gall to blast his writing in public, picking his latest arrival from the bookcase, and reading it on the sly. And caught in the act, they, much to their embarrassment, give the pretext that they were in fact weighing up how bad it was as a work of art.
Humayun Ahmed is, now, easily the most popular writer in Bangladesha superstar author with a prolific following of fans. Most of the younger generation are Humayun-mad. They are passionate devotees of his writing. Not only do they read him voraciously, they also get influenced by it. Perhaps no other writer in Bangladesh has exerted such a powerful influence on readers as Humayun has. We have seen many youngsters leave home with empty pockets wearing yellow panjabis, and walk the streets barefoot at dead of night, emulating one of his characters called Himu.
If popularity is the yardstick of a writer's quality, Humayun Ahmed could be the greatest writer in Bangladesh, and one of the greatest writers of Bengali literature. But connoisseurs of literature won't surely agree. They are used to taking popularity mostly in negative connotations. They do not want to see Humayun Ahmed on an equal footing with Shawkat Ali, Akhteruzzaman Elius, Hasan Azizul Haque, Selina Hossain and others. So, however popular Humayun Ahmed may grow to be, he will not likely be able to lay claim to real literary merit.
Does Humayun Ahmed's writing really have no literary value? How do we evaluate his works? Is there any particular standard for judging the merit of literature and art that can be taken for granted? Is there any fixed criterion for assessing the ability of a writer? If there is, who would set it and apply to others? Who is the right authority to judge the quality of art? Writers like Shakespeare could not escape critical censure. Darwin found him ' intolerably dull and nauseating'. Did it diminish the importance of Shakespeare in the slightest degree?
As a matter of fact, there are no hard and fast rules about literature and literary judgment. Art is the oldest expression of human creativity, and gave birth to the written form of literature after the invention of letters. Literature is precisely nothing but the art of writing. It has come a long way and assimilated numerous changes into it. Modernists and postmodernists have come up with a baffling variety of themes and contents, and this variety has been the spice of literature. Tagore's personal letters have taken on a high literary status, and his proofread matters have been accorded great artistic quality. If literature is thus unlimited in circumference, it will not be that easy to exclude Humayun Ahmed from pure literary circles. Besides, being popular is not always a bar to becoming a genuine writer.
The man who could enter the Bengali literary arena with the 'blazing inferno' as a metaphor for life on earth, and connote it quite contrarily as 'admirable' at the tender age of 24 is not one to be sneered at. Nondito Noroke (1972), Humayun Ahmed's debut novel, must have carried the seeds of a master literary craftsman. There may be no question about it. But whether the seeds are properly sowed, and the seedlings have properly grown and produced flowers may well come into question. It is true that Humayun has become so exceedingly prolific that much of his later writing has been a pale imitation of the former ones. He is revolving around the same old and clichéd circle of writing, and dealing with hackneyed human behaviour and eccentricities which he confronts at every turn.
But there is the other side of the story too. Humayun Ahmed, as a writer, has done many things to his credit. It is true that like a master craftsman, he could not exploit the literary devices in diverse ways. But he has his own sweet way of telling stories which too is fascinating. The most important attribute in him is that he can obviously strike a chord with his readers. He is a man of luxuriant imagination and profound compassion. His imaginative empathy with his subject is so intense that it tugs at the reader's heartstrings. This is where the secret of his popularity and the grounds for his success as an author are to be espied. To this has been added his use of language, which is easy, simple, direct and accessible to a wider reading public. His novels Nondito Noroke, Shankhonil Karagar, Jothsna O Jononir Galpo are valuable contributions to Bengali literature. His characters like Himu and Mishir Ali are not less important than Satyajit Roy's Feluda.
Humayun Ahmed has many strings to his bow. He is a playwright of a high order. He has done much to popularize the trends of soap opera in Bangladesh. One of his TV serials was so appealing that people took to the streets with an impassioned plea for saving the life of one of his heroes. In addition, he is an accomplished filmmaker. His Aaguner Parashmoni is an invaluable addition to Bangla films on our Liberation War. Of late, he has added another fresh feather to his cap which testifies to his versatility as a creative mind.
These are few manifestations of a creative mind named Humayun Ahmed, who seems to have been more sinned against than sinning. He is misunderstood both by his supporters and detractors. What his fans do is nothing other than claptrap, and what his critics do is unnecessarily patronizing. There is no need to make a song and dance about him, nor is there any reason to frown upon his writing. A fair gauge of his achievements can place him in the right position.
Dr. Rashid Askari writes fiction and columns, and teaches English literature at Kushtia Islamic University, Bangladesh. Email:

[email protected]