Opposition top shots in jail
Court terms charges against 33 leaders non-bailable; violence erupts; hartal called for today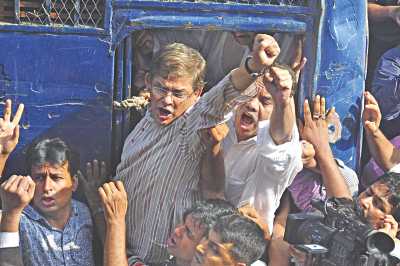 BNP acting secretary general Mirza Fakhrul Islam Alamgir and 32 other high-profile opposition leaders ended up in jail after a Dhaka court yesterday rejected their bail prayers in connection with an arson case.
BNP standing committee members Khandker Mosharraf Hossain, MK Anwar, ASM Brig Gen (retd) Hannan Shah, Mirza Abbas, Goyeshwar Chandra and former DCC mayor Sadeque Hossain Khoka were among the leaders sent to jail. They had surrendered to the court and sought bail.
The BNP, a few hours later, called a countrywide dawn-to-dusk hartal for today in protest. It demanded the unconditional release of its leaders, withdrawal of the cases against them and threatened tougher movements if the demands were not met. More agitation programmes could be declared today.
After the leaders were sent to jail, pro-BNP lawyers got involved in a skirmish with police on the court premises that left 10 people wounded. Police also picked up around 150 people from the court premises but released all but three later on.
Reports of violence and arson across the country also began to pop up. At least 13 vehicles were torched and around 200 others were vandalised across the country.
Before the BNP even called the hartal, Chittagong (south), Thakurgaon (hometown of Fakhrul), Pabna, Natore, Bogra and Sirajganj district BNP jumped the gun and called for daylong hartals in their districts.
"We had no plans to call a hartal. But the government forced us to do so. We are urging people to make the hartal a success," said BNP standing committee member Nazrul Islam Khan while addressing a press briefing around 5:00pm at the party's central office at Nayapaltan in Dhaka.
Police kept the office cordoned off since the morning and not even BNP activists were allowed near the premises.
On April 29, police filed a case under the Explosive Substances Act with Shahbagh Police Station and an arson case with Tejgaon Police Station against the opposition leaders after crackers went off inside the Bangladesh Secretariat and a bus was torched near the Prime Minister's Office during hartal hours.
The opposition leaders, including Fakhrul, went into hiding soon after the cases were filed. They, however, got bail in the case filed under the Explosive Substances Act from the High Court.
A total of 45 leaders and workers of opposition 18-party alliance, including BNP leaders Fakhrul, Mirza Abbas and Ruhul Kabir Rizvi Ahmed; and Liberal Democratic Party President Oli Ahmad, were accused in the arson case.
Four of the leaders, including Jamaat-e-Islami acting ameer Maqbul Ahmad, did not surrender before the court while police arrested BNP Joint Secretary General Ruhul Kabir Rizvi and six others earlier. BNP leader Mahbub Uddin Khokan obtained bail until May 20.
At least 37 accused leaders went to the High Court for bail in the arson case but the court asked them to surrender to the lower court within May 16, noting that the lower court would decide their fate.
The accused leaders surrendered before the court around 9:30am yesterday and filed 20 petitions for bail.
During the hearing, BNP lawyer barrister Moudud Ahmed told the court that the 18-party alliance leaders and activists had been implicated in the case with the intention to politically harass them.
He said the government was trying to prevent them from being involved in active politics. He said three of the accused, including LDP President Oli Ahmad, were not even in Dhaka during the arson incident.
Moudud said the leaders posed no risk of jumping bail and hence they should be given bail.
Opposing the bail petitions, Metropolitan Public Prosecutor Abdullah Abu told the court that according to the law, the charges brought against Mirza Fakhrul Islam and others did not allow awarding bail. The charges brought against them were in the preliminary stage proved as the investigation officer of the case on May 10 pressed charges against them, he said.
Metropolitan Magistrate Mohammad Erfanullah sent the accused to jail around 1:45pm yesterday. He fixed May 21 for passing an order on whether it would take into cognisance the charges against the accused.
The court in its order said the accused could not be given bail in view of the charges against them. It noted that the investigation officer had already pressed charges against them. It also said the charges had preliminarily been proved.
The pro-BNP lawyers and the BNP leaders and activists who gathered in and outside the court went berserk after the court passed the order. They chanted slogans demanding their unconditional release.
At one stage, police charged truncheons on the demonstrators that left the 10 people injured.
Of the injured, pro-BNP lawyer Hossain Ali Khan was moved to Dhaka Medical College Hospital from National Medical College Hospital as his condition deteriorated.
Security was strengthened in and around the court premises prior to the surrender of the opposition leaders.
BNP BRIEFING
BNP leaders sat for a meeting at the party central office around 4:00pm yesterday and discussed their next course of action. They also talked to BNP Chairperson Khaleda Zia over the telephone and decided to call the hartal.
"We had no wish to call a programme like hartal considering public sufferings but we had no option to protest against the government's undemocratic and fascist attitude," said Nazrul Islam Khan at a press briefing afterwards.
BNP standing Committee Member Abdul Moyeen Khan, Vice-Chairman Abdullah Al Noman and Opposition Chief Whip Zainul Abdin Farroque were also present.
SENT TO JAIL
Those who landed in jail yesterday were BNP leaders Mirza Fakhrul Islam Alamgir, MK Anwar, Brig Gen (retd) Hannan Shah, Sadeque Hossain Khoka, Mirza Abbas, Khandaker Mosharraf Hossain, Aman Ullah Aman, Ruhul Kuddus Talukder Dulu, Goyeshwar Chandra Roy, AKM Fazlul Haque Milon, Shahid Uddin Chowdhury Anne, Lutfor Rahman and Nabi Solaiman; pro-BNP student body Jatiyatabadi Chhatra Dal President Sultan Salauddin Tuku; LDP President Col (retd) Oli Ahmed; BJP President Andalib Rahman Partha; Swechchhasebak Dal President Habib-un-Nabi Khan Sohel; Jagpa President Shafiul Alam Pradhan and National People's Party Chairman Sheikh Shawkat Hossain Nilu, BNP leader Nazimuddin Alam; Swechchhasebak Dal General Secretary Mir Sharafat Ali Safu; Jatiyatabadi Chhatra Dal General Secretary Amirul Islam Khan Alim; Jatiyatabadi Chhatra Dal Organising Secretary Anisur Rahman Khokan; Dhaka South Juba Dal President SM Jahangir Hossain Sarder; its General Secretary Rafiqul Islam alias Mojnu; Swechchhasebak Dal Convenor Yeasin Ali; its general Secretary Saiful Islam Nirob; DU unit Jatiyatabadi Chhatra Dal Convenor Abdul Matin; Dhaka South Jatiyatabadi Chhatra Dal general Secretary Habibur Rashid; Dhaka North Jatiyatabadi Chhatra Dal General Secretary Kamal Anwar Ahmed; former Dhaka City Corporation ward councillors Kazi Abul Bashar, Yunus Mridha and Anwaruzzaman alias Anwar.
Bus conductor Mohammad Sohel alias Sohan Miah, bus helper Mohammad Jasim Uddin and Manik Ratan, BNP leaders Kamruzzaman Ratan, Titumir College unit Jatiyatabadi Chhatra Dal President Mohammad Ismail Khan Shahin, Mohammadpur thana Swechchhasebak Dal President Mohammad Mannan Hossain Shahin, and BNP Joint Secretary General Ruhul Kabir Rizvi Ahmed were arrested earlier and sent to jail.
ABSCONDING
Those who did not surrender were Dhaka University unit JCD Joint Convenor Obaidul Haque Nasir and Jamaat-e-Islami acting Ameer Maqbul Ahmad, Chhatra Shibir leaders Nurul Islam Bulbul and Delwar Hossain Sayedee.
NO ACTING SG
Khaleda Zia last night held a meeting with party leaders but did not ask anyone to take over as acting secretary general of BNP.
She, however, asked all to work together so that the party could overcome this "crisis", meeting sources said.
"Activities of the party will continue under the leadership of Khaleda Zia," party Vice-Chairman Abdullah Al Noman said after the meeting at Khaleda's Gulshan office.
He said fresh agitation programmes would be declared today [Thursday] but did not give any details.
Standing committee members Moudud Ahmed, Jamiruddin Sircar, Rafiqul Islam Mia and Lt Gen (retd) Mahbubur Rahman, Vice-Chairmen Hafizuddin Ahmed and Morshed Khan, chairperson's adviser Khandaker Mahbub Hossain, Supreme Court Bar Association President Zainul Abedin and Dhaka Bar Association President Sanaullah Mia were present in the meeting.