Ghulam Azam kept waiting
War Crimes Tribunal defers its ruling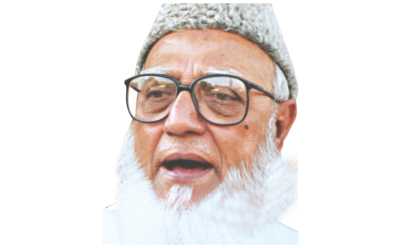 The International Crimes Tribunal-1 yesterday fixed May 13 for the ruling on whether former Jamaat chief Ghulam Azam would be indicted for his alleged involvement in war crimes.
The Jamaat-e-Islami leader, who is facing 62 specific charges of crimes against humanity committed during the country's Liberation War in 1971, was produced before the court.
The three-member tribunal headed by Justice Md Nizamul Huq set the new date as the judges could not complete scrutiny of the relevant documents and arguments.
The verdict was also postponed on April 17.
The court also rejected a plea from the defence lawyers for modifications to its March 6 verdict which permitted the former Jamaat ameer to take homemade food in prison on certain conditions.
As per the March 6 order, his family members would have to supply food at their own risk. No questions can be raised against the hospital or the jail authorities if the health of the accused deteriorates after taking homemade meals, the court had said.
The defence later appealed to the court to withdraw this portion of the order.
Yesterday, the tribunal said Ghulam Azam was not being supplied homemade food even after the order was passed, and his health had not deteriorated.
The accused and his family do not want to take the risk involved, but want to have the scope of raising questions against the hospital or the jail authorities if his health deteriorates after having home-cooked food, the court observed.
After the tribunal rejected the prayer, Tajul Islam, a defence counsel, took the podium and informed the court that the prison authorities had taken away a notepad from his client, which he had kept for taking notes to help his lawyers.
"What is the meaning of snatching some white sheets of paper from an accused?" he told the court.
In response, the tribunal said the incident was surprising as the prison authorities were only supposed to check letters and other documents to or from the accused.
"We even hear that people write an entire novel while being in prison," Justice Nizamul Huq noted.
The tribunal then told the prosecution to look into the matter and sort it out.
The 89-year-old Jamaat leader was arrested and sent to jail on January 11. He is one of the front men who actively helped the Pakistani military to foil the birth of Bangladesh, according to historical records.