Akij celebrates Independence Day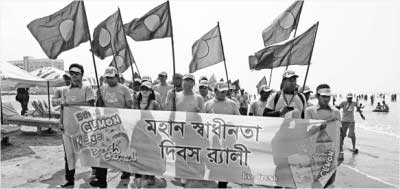 Akij Food and Beverage Ltd organised the fifth Clemon Mega Beach Carnival in Cox's Bazar on March 23 to mark the Independence Day.
Manwara Begum, wife of the founder of Akij Group, opened the four-day carnival.
Sheikh Shamim Uddin, director of the company, said they were happy to organise the carnival for the fifth time to amuse people. "We will continue it in the future."
"The slogan of the Clemon drink is live fresh, which made us hold the carnival," he said.
The purpose of the event was to enhance the brand visibility of Clemon drink through organising different games like kite flying, surfing along with rally at the longest sandy beach, said Shafiqul Islam Tushar, head of brands for the company.
He said the annual market size of carbonated soft drinks in Bangladesh is around Tk 1,400 crore that is growing at 15 percent a year.
Carbonated soft drinks, including clear, cola, cloudy and orange drinks, have an immense market potentiality in the country, especially in clear drinks segment that accounts for around 65 percent of the drinks, said Tushar.
As part of the carnival, the company organised a concert on March 26, the Independence Day.
Around 58 persons took part in the show for free, as the company selected them through a countrywide SMS contest.
Altaf Hossain, executive director, and Arafath Rahman Prince, assistant manager for outdoor and media, were also present.