Plot to Overthrow Govt
Ishraq was to head 'new regime'
2 retired army officials tell court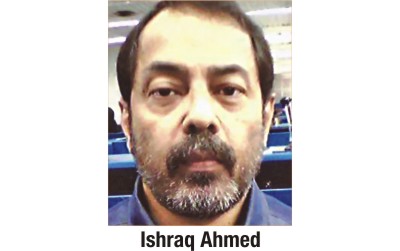 Two retired army officials, arrested in connection with plotting to overthrow the government, told a Dhaka court how they had planned to have an army brigade surround Dhaka cantonment, Bangabhaban and the Gonobhaban, and force the president to dismiss the government and announce a new one.
Ishraq Ahmed, a Bangladeshi businessman who instigated the plot, was to be made the new ruler of the country, according to the plot, which had detailed a new state system and a blueprint on how that system would be implemented.
This was reported in the Bangla daily Prothom Alo Saturday.
Lt Col (retd) Ehsan Yusuf and Major (retd) Zakir revealed these details in their confessional statements following their arrest in December.
Another alleged plotter, a serving major named Syed Mohammad Ziaul Haque alias Major Zia is on the run.
After the two were arrested, they requested that they be allowed to give their confessional statements before a civilian court.
According to the Prothom Alo report, they were taken to a Dhaka Metropolitan Court on January 9, where magistrates Shahriar Mahmud Adnan and Keshab Roy recorded their statements under Section 164 of the Criminal Procedure Code (CrPC).
However, sources in the ISPR said they did not know anything about it. The ISPR on January 19 at a press conference formally revealed to the nation news of the plot to topple the government.
The two former army officials were given three hours to mull over what they would say in their testimonies, court sources said.
According to court sources, Ehsan Yusuf in his statement said he knew businessman Ishraq Ahmed as a friend of his elder brother Lt Col Mehbub. The two had fought together in the Liberation War.
Ishraq is a former student of Faujderhat Cadet College. He left the country for Denmark after Mehbub was killed following the 1981 abortive coup.
Yusuf and Ishraq used to meet twice or thrice a year in the 1990's. In 1997, Yusuf came to know that Ishraq was living in a house at Dhaka's Mohakhali DOHS. Yusuf went there to visit him. Ishraq told him that he had prevented a coup in 1996.
In his statement, Yusuf said after he retired, Ishraq invited him to his house in 2009 and offered him a position in a foreign company, the Bangla daily reported. He asked Yusuf about the internal situation of the army after the 2009 BDR carnage.
Yusuf said Ishraq asked him to introduce him to army officials affected by the carnage. Yusuf then took Ishraq to Major (retd) Zakir and Lt Col (retd) Shams.
Shams did not like Ishraq. He said Ishraq thinks about taking over power like the army officers of the 1960s, which he thought was pointless now.
Yusuf also told the court that in 2011 Ishraq asked him whether he had met Major Syed Ziaul Huq. In February 2011, Ishraq gave him a book and asked him to give it to a brigadier general.
Ishraq was in touch with that brigadier general, Yusuf said.
In his statement, Yusuf said Ishraq told him that a seminar would be organised in England by the organisation of Mostak Ahammed, a teacher at a British university. The seminar would be used to inform the west about the possible consequences of the anger and antagonism in the Bangladesh army following the BDR carnage.
According to Yusuf, Ishraq used to say that China was a factor for the region in the future; and he was in touch with some Chinese leaders, Prothom Alo reported.
Yusuf said he went to see Major Zia in July or August 2011 on the request of Ishraq. Major Zia was studying at the Military Institute of Science and Technology then.
Ishraq told Yusuf that Major Zia would be able to lead and he also spoke about Major Zakir.
In his statement, Yusuf told the magistrate that on a Friday during the last Ramadan, he took Major Zia from Gulshan Shooting Club to Ishraq's home on a rickshaw. When they arrived, Major Zakir was already there. They discussed the government they would form after overthrowing the present one, the Bangla daily reported.
During that meeting, several former army officials, bureaucrats, journalists, intellectuals, teachers and other eminent personalities were discussed.
Major Zakir had then said they almost went for a military operation following the BDR carnage, Yusuf said in his statement. He said Ishraq had the impression that any coup following the carnage would give the impression that it happened because of the carnage.
Ishraq also presented a military plan, which showed that a brigade would surround Dhaka cantonment, Bangabhaban and Gonobhaban.
According to the plan, the prime minister was to be taken to a safe place; many army officials from 34 Bengal regiment would take positions at army headquarters; and the president would dissolve the government and announce a new one; and the head of that brigade would be made the new army chief.
A brigadier general was to be made the chief of general staff and businessman Ishraq was to be the country's new ruler, Yusuf said, adding that the reason behind making Ishraq the ruler was that he used to be a freedom fighter.
A major general was to be given authority over the home ministry, he added.
Yusuf told the court that Ishraq had the impression that there would not be any parades in winter 2011 and he wanted to get everything over with before the winter.
Some two or three days after the meeting, Yusuf went to see Ishraq at his home. At that meeting, Ishraq told him that action would be taken against several generals.
They also discussed Ishraq's position in the new government; the war crimes trial; reinstating Bismillah and faith in Allah in the constitution; repealing women's rights laws; decreeing the hijab; Islami banking; enforcing Sharia law; creating zakaat funds; stopping indecency on TV and films; appointing a Dhaka University teacher as education minister; and forming a high-powered committee for the National University.
A few days after the meeting, Yusuf went to Ishraq's home once again to hold further discussions, Yusuf said in his testimony.
During that meeting, Ishraq told him that the seminar in London had been a success. Plans were made in the seminar on how small groups would execute their operations.
They also discussed the responsibilities of each army official, their positions, sources of arms and bullets, and what would be done to any deserters, Yusuf said.
"At that meeting, Zia said that past coup instigators either had to die or leave the country. What will happen to us now?" said Yusuf.
Yusuf said Ishraq responded by saying that they needed to establish a chain of command in the military. They then dwelt on how the situation would be presented to foreign countries.
Some days later, Yusuf spoke to Ishraq over the telephone, when the businessman told him that the Directorate General of Forces Intelligence was on to him and he would have to go into hiding.
He also said that Ishraq was not in the country during Eid-ul-Azha. The businessman, however, asked everyone to gather at Major Zakir's home on Eid day and they had a teleconference. They had then expressed disappointment at an army officer backing out of the plot.
According to Yusuf, their last meeting was held on December 9, 2011. In the course of it, a major proposed calling off the plot to overthrow the government. After that, Yusuf had contacted a major in Bogra, who later went on to disclose the entire plan.
Court sources say that the statement of Major Zakir is very similar.
Ehsan Yusuf was arrested at Dhaka's Matikata area, close to Dhaka cantonment, on December 15 and Maj Zakir Hossain was arrested at a relative's house at Indira Road in Dhaka on December 31.
Following the revelations and the January 19 press conference, an investigation court was formed in Dhaka and five others in other parts of the country.