BCL factions clash at JnU: Six injured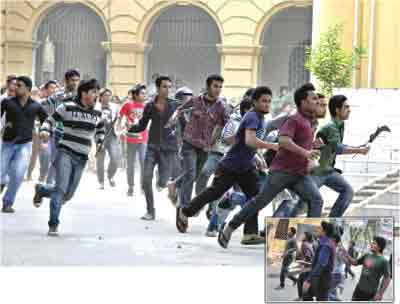 Violent clashes between two factions of Bangladesh Chhatra League yesterday left at least six activists hurt at Jagannath University and vehicular movement suspended on adjacent North-South Road for more than one hour.
Equipped with machetes, knives, iron rods and other weapons, several hundred BCL men from both the groups staged showdowns from 11:00am to 12:30pm creating panic on the campus, witnesses said.
Sources say the clashes erupted following two incidents on Monday over establishing supremacy on social organisation Magura Zila Chhatra Kalyan Samity and Jagannath University Cultural Centre.
The university authorities sealed off the cultural centre on Monday following a feud over supremacy in the organisation among activists of BCL, associate student body of ruling Awami League.
Later on Monday night, a scuffle broke out between the rival groups at a restaurant near the university over the supremacy in Magura Zila Chhatra Kalyan Samity.
Witnesses say during the clashes chase and counter-chase took place between the two groups led respectively by Saiful Islam Akand, convener of BCL university unit, and Khandaker Arifuzzaman, joint convener of the unit.
At one stage, Arifuzzaman group drove away Saiful group from the campus.
Vehicular movement on the North-South Road remained suspended for more than an hour causing severe traffic jam in the area.
Panicked students were seen running to save themselves and taking shelter at different classrooms and even in the toilets.
Police also obstructed traffic movement on the road to avert vandalism and destruction by the BCL activists.
Leaders of the BCL central committee rushed to the spot and eased the situation at 2:00pm.
However, tension was prevailing on the campus.
Proctor of the university Dr Kamal Uddin Ahmed termed the incident "very sad" and expressed concern over the situation. "The incident was triggered by their earlier feuds, which are not related to the interests of the general students," Dr Kamal commented.
"We are going to take stern actions against those who have created anarchy and destabilised the peaceful situation," the proctor added.
He said as the vice-chancellor is abroad, actions will be taken after having a discussion with him.
Khurshid Hossain, deputy commissioner of Lalbagh division police, said they had to keep traffic off the road for a while to avoid vandalism.
Asked, he said they did not arrest anyone as the university authorities did not file a complaint with them.
In a separate incident, several hundred students of Dhaka Polytechnic Institute in Tejgaon Industrial Area took to the street for about half an hour blocking Tongi Diversion Road yesterday morning.
They staged the demonstration demanding some changes in their examination system and curriculum.