1st Int'l Children's Film Festival
Daylong seminar on cinema for children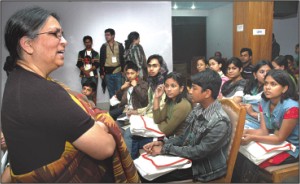 The weeklong 1st International Children's Film Festival ended on February 2 with a daylong seminar on children's films at the Seminar Hall, Central Public Library.
Keynote papers were read out by Badal Rahman, Geeti Ara Nasreen, Fuad Chowdhury and Anupam Hayat. Morshedul Islam, Masihuddin Shaker, Munni Saha and Monira Morshed Munni were the moderators. Dr Muhammad Zafar Iqbal, Professor Anisuzzaman, Atiqul Haque Chowdhury and Masihuddin Shaker chaired the sessions.
Altogether four papers were read. Badal Rahman presented his paper on the problems and prospects of making children's films in Bangladesh. He explored the subject in three periods. From 1971 to 1983 our films eulogised the Liberation War and later highlighted social problems. From mid-'80s to 1995, according to the speaker, alien elements and vulgarity crept into our films. From 1995 onwards, said Rahman, attempts have been made to get back on track.
Geeti Ara Nasreen presented her paper next. She went over the influence of film and media on children. Nasreen believes that teachers and guardians have to be acquainted with the media to understand its effects on the children. "We need research involving media activists and those who monitor it," she said. According to her "An alternative media should be developed." Nasreen also thinks that the government should come forward with funds and training facilities for these.
Fuad Chowdhury spoke next on the necessity of children's programmes on television channels. He pointed out that our children are exposed to unlimited foreign TV channels, including Indian ones that may result in negative influences. The programmes meant for children are very few on our local channels. In India and other countries there are TV channels devoted to children. Chowdhury feels that the involvement of children in TV programmes will make them more interesting.
The last paper of the day was on the importance of government support in making films for children. The paper was presented by Anupam Hayat. Hayat began by recalling that East Pakistan Film Development Corporation was formed through a bill presented in the East Pakistan legislative assembly by Bangobandhu Sheikh Mujibur Rahman on April 3, 1957. More than 400 films were made between 1957-1971 -- of which only one was meant for children (Son of Pakistan in 1966). The speaker is hopeful that a new chapter will begin with the 1st International Children's Film Festival.
The seminar was lively but not well-attended. According to the organisers, although letters were sent to the principals of 84 schools to send their children to attend the festival, only a few turned up. The movies were screened at 11 am, 2 pm, 4 pm and 6 pm on all days except Friday. Quite a few commented on the difficulty of making time to attend the festival on school days.
The child delegates and volunteers had the opportunity to spend time with some notable personalities. Human rights activist Advocate Sultana Kamal appeared in the evening after the seminar. Earlier noted educationist Professor Abdullah Abu Sayeed attended the festival on January 29 and Professor Muzaffar Ahmed on January 30.
"I hope that the government will form a Children's Film Council in Bangladesh like many other countries and that it will come forward to provide incentives to directors for making children's films by providing tax-free benefits," said festival director Morshedul Islam.
A daylong workshop on filmmaking was held for the child delegates on February 1.