Stop hill cutting for industry
DoE asks KEPZ authorities that claims to have govt nod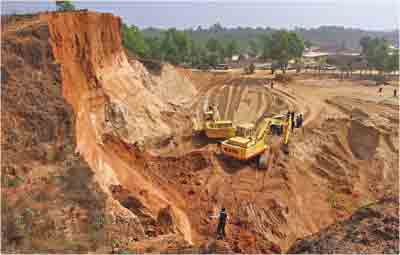 The Department of Environment (DoE) yesterday directed the Korean Export Processing Zone (KEPZ) authorities to stop cutting hills in its project areas under Anwara and Patia upazilas in Chittagong.
Acting on a tip-off, a team of DoE conducted a drive in KEPZ project areas and found that the authorities had levelled around 40 to 60 feet high hills at three different sites to make industrial plots.
The DoE team also directed the KEPZ authorities to plant trees and dig ponds to revive the ecology of the hilly areas and protect their biodiversity.
"No one can level hills indiscriminately in the name of land development," said DoE Director Munir Chowdhury, who led the drive.
Any development work should take place in line with protecting the hills, instead of destroying them, he added.
However, Brig Gen (retd) Hasan Nasir, in-charge of the KEPZ project areas, claimed that necessary permission from the DoE to develop the plots had been obtained.
The DoE in its letter directed the KEPZ to preserve 60 percent of hilly regions and construct plots in the remaining areas, he said.
"We will never exceed the 40 percent limit to construct plots as per our proposed plan," Brig Gen Hasan said.
The DoE team without checking any document arrested a security guard and a driver stationed in the project area, he said.
But the team soon released them when the KEPZ officials showed them necessary approval from the DoE, he added.
The DoE team during the drive found that the KEPZ authorities were cutting hills beyond the permitted limit, said Munir Chowdhury.
Therefore, it asked the KEPZ officials concerned to come to its Dhaka office and show their necessary documents of approval today, the DoE director added.