A poem turns saviour against tyranny
BNAP celebrates 90 years of Nazrul's "Bidrohi"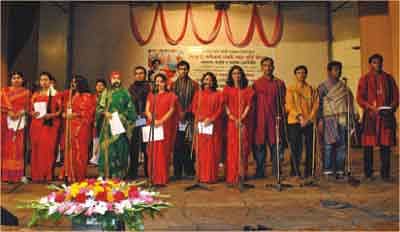 Bangladesh Nazrul Abritti Parishad (BNAP) celebrated 90years of National Poet Kazi Nazrul Islam's poem "Bidrohi" (The Rebel) written during the last week of December 1921. A creative genius, his poetic work caused patriots to rise up against colonial rule in unison and gave a taste of freedom to the country. The celebration at Shawkat Osman Memorial Auditorium of central Public Library, aimed at projecting Nazrul's poetry to every door in Bangladesh.
Nobel Laureate poet Rabindranath Tagore developed a great appreciation for the versatile talent Nazrul after reading the poem that was termed as the "savior" against tyranny, said speakers at the discussion.
Among others, eminent poet Al Mahmud, Nazrul scholar Professor Abdul Qaiyum and former executive director of Nazrul Institute Abdul Hye Sikder, were present at the discussion led by Nasim Ahmed, president of BNAP.
Abdul Hye Sikder pointed out to the contribution of "Bidrohi" and its writer to the country's Language Movement that later stretched into the war or Independence.
The then communist leader Muzaffar Ahmed in undivided India was the lone witness of the rebel's poem while it was composed by Nazrul and later published in the 'Bijli' newspaper on January 6, 1922, Hye further said.
Prof Abdul Qaiyum cited Bidroh Kazi Nazrul Islam, as "a household name in Bengal, who was the only poet to gain global fame, after composing "Bidrohi".
After the discussion, the poem was recited to a packed audience who braved the bitter cold weather to come to the auditorium.
A total of 23 poems from Nazrul were rendered by BNAP artistes. The poems included "Aaj Shristhi Shukher Ullashe", "Kandari Hushiar", "Shebok", "Shikha", "Proloiullash", "Kuli Mojur" and " Jago Nari Jago among others. Mohammad Yusuf, Quazi Jannatun Naime Shimu, Maruf Sharif, Tanzina Aktari Mousumi, Farah Binte Bashir Dolan, Jahirul Islam Miraj, Abdur Rahman Raqib and Badiuzzaman, recited poetry.
A group rendition by children followed. The programme wrapped up with a choral recitation. This was the third event organised by BNAP since its inception.