Germany wants stronger relations with Bangladesh
President Wulff says during meetings with Zillur, Hasina, Khaleda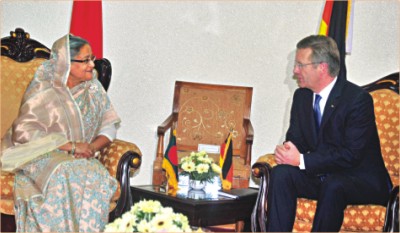 Visiting German President Christian Wulff said yesterday his country would explore new areas of cooperation with Bangladesh in trade, investment and power.
"We want to proceed bilaterally to explore new avenues of cooperation in areas of trade, investment, power and development along with existing multilateral linkages," Wulff said during a meeting with Prime Minister Sheikh Hasina, according to the PM's press secretary Abul Kalam Azad.
The German president arrived on Monday on a three-day state visit to Bangladesh. His meeting with Hasina took place at Ruposhi Bangla hotel.
Wulff also met President Zillur Rahman, Leader of the Opposition Khaleda Zia and representatives of civil society besides delivering a lecture at Dhaka University on the day. He also attended a banquet hosted in his honour by his Bangladesh counterpart.
Wulff told Hasina that Germany was keen to strengthen its bilateral relations with Bangladesh. He also acclaimed Bangladesh as a 'stabilizing force' in South Asia and praised the development activities that have been taken up by the government, the press secretary said.
President Wulff is leading an 84-member delegation, including a strong business team. He said the large business delegation accompanying him was a strong sign of Germany's intention to boost economic relations with Bangladesh.
In response, Sheikh Hasina said: "Bangladesh always gives high importance to its relations with Germany, which is its second largest destination of export and one of the main development partners."
She told the President about her government's firm commitment to strengthening democratic values, practices and institutions. Besides, the government was determined to wipe out terrorism, a task in which it had been working jointly with the international community.
Hasina sought German support in the energy sector and global climate change negotiations. She also requested German collaboration with Bangladeshi universities and research institutions, especially in medicine, bio-technology, generic engineering, applied disciplines and ICT areas.
BNP Chairperson Khaleda Zia while meeting the German president urged more German investment in Bangladesh in order for the country's industrial sector to flourish.
In his speech at Dhaka University, the German President said it was not possible to have a sustainable democracy without a strong opposition.
He said there were a number of symbols of growing democratization in Bangladesh, which could turn the country into a role model of democratization for other countries.
The German President also met some civil society members at Goethe Institute.
During the meeting, Wulff inquired about the political situation in Bangladesh, the conflicts between the two main parties and its impact on the young generation, according to Transparency International Bangladesh executive director Iftekharuzzaman, who attended it.
Iftekhar said the move to amend the Anti-Corruption Commission law, corruption, human rights, press freedom, government-NGO relations were discussed at the meeting.
BRAC founder and Chairperson Fazle Hasan Abed apprised the German President of the role of NGOs in the development endeavours in the country and relations between the government and NGOs.
A former adviser of a caretaker government, Sultana Kamal, told the meeting the level of awareness regarding human rights has increased among the people in general but due to the culture of impunity here many were afraid to raise their voices against transgressions of the law.
The Daily Star Editor and Publisher Mahfuz Anam said the press in Bangladesh was enjoying freedom, but nevertheless there was also concern.
Meanwhile, German entrepreneurs, who met with Bangladesh business leaders and Commerce Minister separately, look for more long-term business in joint ventures in Bangladesh through ensuring a win-win situation for both sides.
"We've been here for a long-term trade relationship. We want to deepen our relationship," said German business delegation leader Dr Karl Ernst Brauner at a luncheon meeting with FBCCI at Ruposhi Bangla Hotel
Brauner, also Director of the Department of Foreign Trade Policy, Germany, said, "This visit is not an end point; it is rather the beginning of a long process of further cooperation…the visit is not a coincidence."
During meeting with Commerce Minister Faruk Khan, the German trade delegation expressed interest in investing in solar energy, shipbuilding and infrastructure in Bangladesh.
The German President will leave Dhaka today at the end of his visit to Bangladesh.