Women's Rights
Change in men's mindset stressed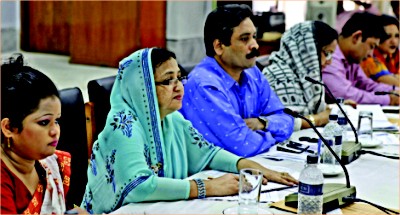 Stressing the need to bring a change in men's mentality towards the rights of women, speakers at a seminar yesterday said women's rights would be ensured if awareness can be created among the two sexes.
They opined that awareness would also solve problems women face regarding inheritance of land.
The seminar marking International Rural Women's Day was organised by National Committee on International Rural Women's Day Celebration in the city's Cirdap auditorium.
In his keynote presentation, Mujibul Haque Munir, researcher of Coast Trust, a non-government organisation, said though about 43 percent of women are labouring in agricultural sector, only 10 percent enjoy ownership.
Women's contribution to agriculture is still not acknowledged, he added.
Mujibul presented seven recommendations including implementation of the constitutional recognition of women's rights, ensure their rights from home and necessary reforms to change the mentality of trying to deprive women.
Lawmaker Rashida Begum Hira laid emphasis on implementation of a law instead of just its formulation.
"If the Quran's sayings on share of women's inheritance on land and other rules like for Mohorana (a traditional Islamic premarital divorce settlement for women) were followed, the condition of women would be already developed by now.
"But, it is not followed in our society", she said.
Quoting the preliminary result of the last population census, another lawmaker Shaheen Monowara Haque said women population is more than that of men. "Therefore, it is not possible to develop the country unless women's condition is developed," she added.
Speakers underscored the need for ensuring social security for women and fast implementation of women policy.
The committee Secretary Mustafa Kamal Akand presided over the programme.