Sound of Music
Audio market during Eid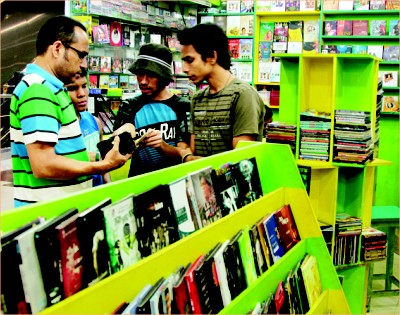 Eid is an opportune occasion for album releases and every Eid several audio albums -- largely featuring young singers -- hit the market. Of these, Arfin Rumey's album "Bhalobashi Tomaye" boasts the highest production cost. "Bhalobashi Tomaye" is Rumey's third album, featuring 10 songs including "Priyotoma", "Rangin Hawa", "Bhalobashi", "Achena Maya" and "Shono Meye". Nancy, Porshi and Kheya along with Indian singer Shubhomita have lent their voices to several duets. Shafiq Tuhin, Sohel Arman, Anurup Aich, Rabiul Islam Jibon, Mashfik and Zahid Akbar wrote lyrics for the album.
Singer Tausif's sixth album "Onidra" has been released on mobile phone. Under the banner of Agniveena, the album also features Dinat Jahan Munni in duets with Tausif.
Kona's third solo album "Simply Kona" was launched on August 18. Under the label of Deadline Music, the album features 10 tracks. Of these, Bappa Mazumder composed six songs, Fuad Al Muqtadir composed two and the rest were composed by Sri Lankan singer-composer Iraj Weeraratne. Shahan Kabondho wrote lyrics for all the songs except one Nazrul Sangeet "Priyo Jai Jai Bolo Na".
Muhin's (of "Close-up 1" fame) third solo album "Ghum Ashey Na" featuring 10 original songs was launched recently while Atik's (also from "Close-up 1") debut album "Apon Korey Ne" has been brought to the market by G-series.
Singer Monir Khan's 40th solo album has been released as well. Milton Khandakar wrote lyrics and composed tunes for the album. Banglalink has presented a mixed album titled "Shamorpon" that features seven folk songs. Sumon of Aurthohin and Tipu of Warfaze recorded three songs each while Habib recorded one song. Deadline Music has produced the album.
Under the label of G-series, another mixed album titled "Nirbachito" is in the audio market. Singers Fahmida Nabi, Elita Karim, Arfin Rumey, Mahadi, Shafiq Tuhin and Priyanka Gope recorded songs for the album. Prince Mahmud wrote lyrics and composed tunes for the album that features 10 songs.
A Rabindra Sangeet album titled "Nobo Anandey Jago", featuring the recently deceased singer Abid, has been released. Singers Fahmida Nabi and Elita Karim have also been featured in the album as co-artistes. The album features Tagore songs including "Jibon Moroner Shimana Chhariye", "Aaji Jhorer Raat-e", "Shokhi Bhabona Kaharey Boley", "Amar Poran Jaha Chaye", "Nobo Anandey Jago" and "Majhey Majhey Tobo Dekha Pai". This is Abid's third album. His two other albums "Eto Bhalobashi" (Rabindra Sangeet) and "Bhalobashar Prohor" (contemporary) were released in 2006 and 2009 respectively.
Laser Vision has brought out actor Shamim Zaman's solo album "Ekti Chithi Likhi" this Eid. Nafiz Monir directed music for the album.
As tribute to 'Pop Guru' Azam Khan, record label Impress Audio Vision Limited has released an album titled "Guru Tomaye Salam" this Eid. The album features three unreleased songs -- "Ami Bangladesh-er Azam Khan", "Keu Nesha Koro Na" and "O Ekushey February" -- of the late Khan, three by Moni Zaman, and a duet. The songs have been written by Abul Khaer. Moni Zaman composed his own songs.
ATN Music has released singer Eva Rahman's solo album that features nine tracks. Ibrar Tipu composed tunes and directed music for the album. Tipu also recorded a duet with Eva on the album.