Default loans on the rise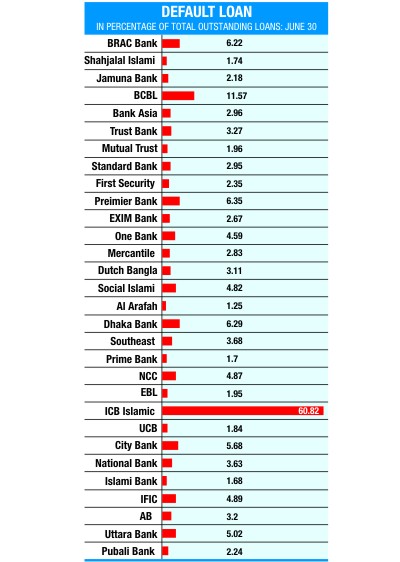 Default loans continued to rise in the second quarter -- by Tk 643 crore or 2.66 percent -- due to sluggish activities in the industrial sector and unhealthy competition among some private banks.
On June 30, banks recorded default loans of Tk 24,384 crore of their outstanding loans, up from Tk 23,752 crore on March 30, according to Bangladesh Bank statistics.
In the first quarter to March, default loans rose by Tk 1,043 crore or 4.59 percent.
In percentage, however, default loans went down slightly because of a rise in outstanding loans.
On June 30, the total amount of default loans was 7.14 percent of their outstanding loans -- down from 7.27 percent in March.
Default loans of all private commercial banks, state-owned commercial banks and foreign commercial banks increased, except for the specialised banks, but the rise was the highest among the private banks.
However, default loans of all the private banks, except two, were low -- below 5 percent.
In June, default loans of the state banks rose by Tk 125 crore compared to March, according to the central bank statistics. Such loans in state banks increased by Tk 592 crore and in the foreign banks by Tk 37 crore.
But default loans of the specialised banks went down by Tk 124 crore during the same period compared to that in March.
Krishi Bank Chairman Khondker Ibrahim Khaled said performance in the manufacturing and housing sectors slowed, which trapped the loans in these sectors.
He also said money of some banks, especially of the private ones, got stuck in the stockmarket after a fall in prices there. He said another reason for a rise in default loans may be the weakness of the banks in monitoring the loan recovery activities.
Due to an unhealthy competition, some banks do not put adequate efforts to realise default loans from some parties.
A senior executive of a private bank supported the views of Khaled, and said many customers do not pay loans timely and the banks concerned also do not put any pressure on them.
Khaled also said, in this context, if the BB approves some more new banks to be set up the unhealthy competition will rise. He said, instead of giving approval to new banks the central bank should intensify monitoring of the existing banks.