<i>Theatre festival in aid of Sidr victims</i>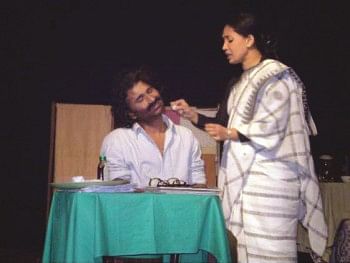 An eight-day group theatre festival began at the Rangpur Town Hall on January 9.
Sammilito Sangskritik Jote's Rangpur unit has organised the festival to raise funds for the Sidr victims.
A total of eight theatre groups of Rangpur are participating at the festival. The groups include Shikha Sangsad, Rangpur Podatik, Sarathi Nattya Goshthi, Sarothi Academy, Bicon Nattya Kendra, Rangpur Nattya Chakra, Rangpur Nattya Kendra, and Rangpur Theatre.
The play Abhinoy was staged by Shikha Sangsad on the inaugural day. Kandte Mana by Bicon Nattya Kendra was staged on January 10, Ekhono Kritadas by Rangpur Theatre on January 11, Kanjush by Sarathi Nattya Goshthi on January 12 and Muktir Kontho by Rangpur Podatik yesterday. Daiboddho will be staged by Rangpur Nattya Chakra today, and Meraj Fakirer Ma by Rangpur Nattya Kendra on January 16.
Deputy Commissioner (DC) of the district, Khondoker Atiar Rahman inaugurated the festival. President of Rangpur Nattya Chakra, Hosneara Lutfa Dalia, and secretary of Sammilito Sangskritik Jote, Rangpurunit, Sakhawat Ranga spoke at the inauguration.
The DC said that the cultural activists of the country have always stood by the distressed following natural disasters. "I believe, it is a great initiative by Sammilito Sangskritik Jote to raise funds for the Sidr victims," he added.