Siege protesting open pit mining to continue today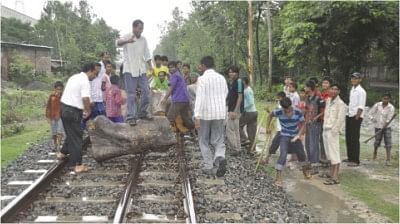 Rail communication between Dinajpur and other parts of the country has remained suspended since yesterday morning as locals blocked railway protesting the government's plan for open pit mining in Barapukuria Coal Mine.
The demonstrators under the banner of National Committee to Protect Oil, Gas, Minerals Resources, Power and Port, who extended till Thursday the ongoing besiege programme in Barapukuria Coal Mine from Monday, also blocked Barapukuria regional highway on 10:00am yesterday.
They put logs to block three kilometre rail tracks from Rasulpur in Parbotipur upazila to the coal mine at about 12:30pm.
The railway authorities suspended running of all the Dinajpur-bound trains at Fulbari and Birampur rail stations after the protesters threatened to go for a railway blockade programme at about 10:00am.
Speaking at a rally yesterday morning, Aminul Islam Babu, a member of Phulbari unit of the protection committee, said they would stop coal lifting if necessary.
Thousands of people holding bamboo sticks took position in front of two entrances of the coal mine area since morning.
The besiege programme started protesting the government's plan for open pit mining at Barapukuria and demanding compensation for loss of aman crops and postponement of the ongoing land survey.
Meanwhile, a clash erupted at Barapukuria Bazar as the protesters assaulted Md Helal Uddin, a local cable line operator, after Helal protested the cutting of cables by the protesters.
Police later rescued him with the help of locals. As the news spread, hundreds of people from Chowhaati, Durgapur, Shahgram, Rambhadrapur, Yousufpur and Bagra villages armed with sticks gathered at the bazaar at around 3:00pm and attacked the 'National Committee' members who were also equipped with sticks.
At least five people were injured during the ten-minute-long clash.
The clash ended as the protesters of the committee left the scene.
The villagers restored the road communications that had been blocked by supporters of 'National Committee' at about 4:00pm. Businesses also restored at the area.
The agitators of the protection committee again blocked Phulbari-Bogra highway protesting assault of Md Aminul Islam Bablu, a member of Phulbari unit of the committee.
The blockade continued as of filing this report at about 6:30pm.
About 500 law enforcers have been deployed in the area to avert any unwanted incident.