Support nursing sector from CSR fund
Speakers urge private organisations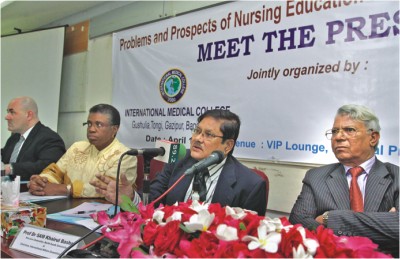 Speakers at a press conference yesterday urged the private organisations to support nursing sector from the Corporate Social Responsibility (CSR) fund to ensure quality care for the patients.
Referring to the shortage of nurses in the country, they said nurses have great demand in the country as well as abroad. But the sector is a neglected one having only 28,000 registered nurses when it needs at least two lakh.
International Medical College (IMC) and Kean University (KU), USA jointly organised the press conference titled 'Problems and Prospects of Nursing Education and Care in Bangladesh' at the Jatiya Press Club.
Major General (Retd) M Abdur Rab, chairman of the governing body of International Medical College said currently 1346 nurses have been working in 13 countries of the world with dignity. He said if the nurses are sent abroad with quality training, Bangladesh would be able to earn more foreign currency from this sector.
At the same time, it would ensure quality service to the patients in the country, he said, adding that the nurse-patient ratio in the country is 1:15 as against the international standard of 1:4.
They suggested streamlining different scholarships, cost sharing options and support from CSR funds of different private organisations to attract the people of middle and lower middle income group to study BSc in nursing in private sector.
They said IMC provides an opportunity for its students to pay the money in installment.
Besides, it has signed a deal with Kean University under which the experts from that university would train the IMC teachers from January 2012, said MA Mubin Khan, deputy managing director of International Medicare Limited. IMC has also signed another academic agreement to introduce English as Second Language (ESL) certificate programme on Monday to increase the communication skill of the nurses who intend to work abroad.
Dr Minnie Campbell, executive director, School of Learning of Kean University, Prof Timothy Torre, director, Center for International Studies, Faruque Ahmed Chowdhury, director, Human Resources of Kean University also spoke at the press conference.