A Treat for Guitar Enthusiasts
Classical and Flamenco guitar fest in Dhaka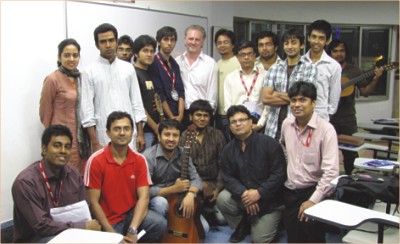 The six-day 'Dhaka Classical and Flamenco Guitar Festival' is on at different venues in the capital (starting from February 14). Featuring reputed American guitarists Mir Ali and Stanley Yates, the festival has been arranged by Classical Guitar Association of Bangladesh (CGAB), an organisation aiming to promote western classical music.
Mir Ali and Stanley Yates, along with local artistes, have been performing everyday at the festival.
The inaugural show was held at Alliance Francaise de Dhaka, Dhanmondi on February 14. The event featured an hour-long performance by the American artistes. Mir Ali demonstrated his superb Flamenco guitar skills, while Yates entertained the audience with some pure western notes.
The duo also conducted a couple of master classes on the respective genres.
The festival is the first of its kind by CGAB, informed the organisers, who consider it as a step ahead to their journey to introduce western classical music to a broader audience, especially to the students. They held a couple of shows at different education institutes, including Notre Dame College. "Our aim is to introduce western classical music across the country," said Iftekhar Anwar, president, CGAB.
Praising the guest guitarists Ali and Yates, noted Bangladeshi musician Swani Zubayeer said that the festival is a remarkable endeavour. Zubayeer, also an adviser to CGAB, hopes that the festival will inspire youngsters to take further interest in western classical music.
The festival also conveys a social message: "Save the Rive Buriganga". "We want to generate awareness among people, especially youngsters, about the significance of the river," said Zubayeer. The Daily Star holds the same view and is the media partner of the festival.
Today, an exclusive show featuring the American guitarist duo will be held at Chhayanaut Sangskriti Bhaban, Dhanmondi.
The organisers informed that a part of the programme will feature renditions of popular Bangla songs by local artistes -- accompanied by Ali and Yates on guitar. Eminent author Dr. Muhammad Zafar Iqbal will grace the event as chief guest.
Today's programme will start at 7:30pm.
CGAB officially started its journey in 2009, though its activities began in 2003.