On poet Jasim Uddin's 103rd birthday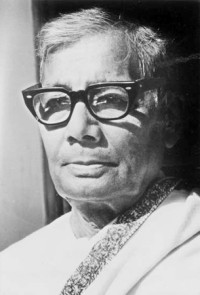 Jasim Uddin was born on January 1, 1904, in a small village, Tambulkhana, in the Faridpur district of East Bengal. That was his grandparent's village, only eight miles from his parent's home in Govindapur. He has described these two villages and their manner of life in his autobiography. Many scenes from The Field and Gipsy Wharf have their setting in these villages. In those books, Jasim Uddin is writing of a time when the land of Bengal had fewer problems than it does at present.
In his autobiography, Jasim Uddin tells much more about village life as he knew it. He swam in the ponds and canals, fished in the rainy season, watched the sugar cane being made into treacle, and ate his fair share of this tasty sweet.
The boy Jasim built a banana-palm raft and sailed it one early morning to help himself to a neighbour's ripe dates. Like his hero, Sojan, he knew where the weaver bird made its nest, and admired the intricate construction.
He knew when and where the best mangoes and plums were ripe. When the travelling theatre, the Jatra, came to town he and his cousin, Nehaj Uddin, would sneak off and stay up all night listening lo the play. Throughout the year they enjoyed both the Hindu and the Moslem holidays.
Jasim Uddin was proud of belonging to the folk tradition of Bengali literature. He was pleased by a comment of one critic who, praising his autobiography, said: "Reading Jasim Uddin's Jiban Katha (autobiography) is like eating country cakes from mother's own hand." On his birthday, I reproduce some parts of his autobiography:
"In my books Nakshi Kathar Math (The Field) and, Sojan Badiar Ghat (Gipsy Wharf) I was remembering the people of these villages. Even today, this picture of plenty in the villages gives me pleasure when I think about it. If I could but change this joyless, needy land of today with all its prejudice for that land of happiness, song and prosperity, I would dance for joy.
It was a land of plenty in those days, with no need for much money or hard work. One might say Laksmi, the goddess of wealth, smiled on Bengal. In former days, in every quarter of the village, there were song gatherings, Gajir songs, Jari songs and Keccha songs, which kept the villages in a state of excitement. The fields yielded good harvests. With a little scraping of the plough and a flick of the wrist to sow the seed, green sprouts appeared, covering the paddy fields as far as the horizon. The rivers, canals and ponds swarmed with fish. One had only to scoop them out by hand. Very few things were bought with money. For a few sheaves of paddy, the blacksmith would forge a plough, the barber would cut hair, the potter make pots; for a little mustard seed the local oil presser would deliver mustard oil to every home. Even now, this method is in use in the villages.
To myself, I kept praising my mother. My mother knows so much. Receiving the magic touch of my mother's hand, the bits of rice and treacle would become such delicious rice cakes and be transformed into something new. This is the task of every artist. He takes what he has to work with and, manipulating it according to his liking, gives it new life.
When I must give up something today it is not difficult for me to do so. Besides this discipline, the knowledge I obtained when a boy, of the Hindu gods and goddesses, of the method of accomplishing tasks that at first seem impossible, has helped me immensely in my creative work. The literature of this land (Bengal) is not merely Hindu literature, nor can it be said to be Moslem literature. Since both Hindus and Moslems have written in one language (Bengali), the literature of this land is both Hindu and Moslem. Those who would separate the two and write literature will not last many days, I am sure. Because of the universality of appeal in the world of literature, sectarian thought is out of place there. If my own writing has achieved anything of universal appeal, then it is thanks to that sannasi.
The sannasi probably had the strongest influence of any person outside his family on Jasim Uddin. The boy did, however, have other friends who helped him, particularly with his poetry. His interest began when he was very young, perhaps seven or eight years old
I only remember something he said one day. I had asked the Pandit: 'I want to write Bengali books. You give me some good advice. What shall I do to succeed in this?'
Laughing he replied: 'You are a Bengali boy. Whatever you write will be Bengali. For that, there is nothing you need do. Whatever you have to say, write it in the same manner as all are talking to me. That will be your best composition.' All my life I have tried to apply the advice of this pandit to my work (ibid).
One day it suddenly occurred to me; how would it be if I wrote the words in my notebook in the same ready manner that I composed oral poetry? After writing three or four of my couplets in the notebook I was astonished.
There were fourteen syllables in every line and the last syllable of every line rhymed with the second line's last syllable. I doubt whether Columbus discovering America felt such joy as I felt at this discovery. For so many days I was accustomed to composing my verse to a tune.
Without a tune I could not compose the words in poetical metre. Now that had I discovered how to find the rhythm for my verse, who could hold me back? I filled notebook after notebook (Jibon Katha, 1964)."
Thus, Jasim Uddin started reciting and composing poems at a very early age. By the time he was a student at Faridpur Rajendra College his poetry had already won him some fame.
Kobor (Graves) was prescribed as the text for the Matriculation Examination at Calcutta University when Jasim Uddin was still a student in the 1. A. Class (Rajenra College, under Calcutta University)
Barbara Painter, Washington, USA writes:
"Gipsy Wharf and The Field, I think, are among Jasim Uddin's major works, but he is a versatile and prolific writer. Like another famous Bengali poet, Rabindranath Tagore, Jasim Uddin has tried his pen in almost every field, like Boba Kahini (Tale of an illiterate man) 1964. He has written many short dance dramas: Beder Meye, 1951 (The Gipsy Girl), Madhumala 1956 (from the fairy tale of Princess Madhumala), Palli Badhu (Village Bride) 1956, the plot of which, he writes, is borrowed from Tagore. Jasim Uddin has also collected and rewritten numerous folk tales and folk music (Jari Gan, Murshida Gan. He has published two volumes Banglar Hashir Galpa (Laughing Tales of Bengal), and Vol. I, 1961, Vol. 2, 1964. Among Jasim Uddin's song books, perhaps the best are Rangila Nayer Majhi (Boatman of the Gay Boat) 1933 anel Padma Par (The Banks of the Padma River) 1949. Foremost of his lyrics are the books Rakhali (Pastoral Poems) 1929, Balu Char (The Sandbank) 1930, Dhan Khet (The Paddy Field) 1932. Other important lyrics written recently are in the books Rupavati 1946 and Sakhina 1960 (both girls' names). The first book of lyrics published after the partition of India-Pakistan, when the poet moved permanently to Dacca, was the book. Matir Kanna (Sorrows of the Earth) 1955. This book has been translated into Russian.
During Second World War, poet Nazrul Islam was selected by the British government to head Song Publicity of Calcutta Information Ministry. As Nazrul was sick Jasim Uddin was summoned for this post from Dhaka University (Prothom Alo, January 3, 2003).
Jasim Uddin wrote and tuned folk songs which are still celebrated in the air and sky of Bengal.
Jasim Uddin is not only a famous composer, he also gave all the tunes of his songs which are documented in gramophone records. Jasim Uddin collected several thousand folk songs from rural Bengal under the guidance of Prof. Dinesh Chandra Sen as a Ramtanu Lahiri Scholar. He has written two books, Jari Gan and Murshida Gan.
Songs like O Amar Daradi, O Tui Jare aghat Hanlire Nadir Kul Nai O Amar Gahin Ganer Naya Ujan Ganger Naya. Nishite Jaio Phulo Bane, Prano shokhi re oi shone kodombo tole or O amar dorodi age janle, and many others still persist, and have been the backbone of Bengali folk music in this country.
"Come to the garden by night"
Nishte Jaio Phul bane, O Bhomora
Come to the garden by night.
My bee.
I shal stay up the night
Lighting the lamp of moon
And talking to the dew drops
My bee.
Come to the garden by night
should I fall asleep
Tread softly my bee,
do not break the branch
Or crush my flowers.
Or awaken the flower that is asleep
come to the garden by night.
My bee.
One of the most popular songs of Jasim Uddin, "Come to Garden by Night," and "Bandhu Rangila," sung by famous Sachin Dev Barman (to immortalise the name of Sachin Dev Barman the West Bengal government did a lot of things and named some memorials after him. Recently, a centenary was celebrated on him with great pomp and grandeur).
Even thirty years after the death of poet Jasim Uddin, nothing has been done by the governments of BNP, Awami League or the present regime. We offered the governments opening of a national museum at the poet's residence to preserve the heritage of tradition and true culture of Bangladesh, but this was not accepted.
Jasim Uddin's deep involvement in non-communal socio-political movements championing the cause of Bengali language and literature gives his lyric and folks poetry a keen edge of commitment and protest. His poems are as popular as part of school curricula in West Bengal, India as they are in Bangladesh.
A country cannot exist without preserving its cultural and national heritage. The independence of Bangladesh itself has been a statement -- that a state cannot be run on the basis of religion alone, it should take into account other factors like language and ethnicity into consideration.
It is no surprise then that the first constitution of Bangladesh rightly incorporated secularism as one of the guiding principles of the new country.
Jasim Uddin was the champion for the Bangladesh freedom movement, taking the risk of publishing and distributing the poems on the War of Independence -- about 17 poems all over the world -- which created sympathy for liberation.
What we need more urgently now is the strategic vision of what the government must do, how to do it, and when these visions would become a reality. This would bolster the people to act as a united force of the nation on different fronts, the way the people reacted on the political front to the call for independence in 1971.
On our part, as a small effort, we have started a small museum at the poet's residence in Ambikapur, Faridpur, and a website: www.jasimuddin.org.
Dr. Jamal Anwar, son of Poet Jasim Uddin, writes from Berlin, Germany.