US Senator given warm reception in ancestral village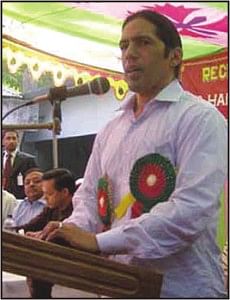 American Senator Hansen Clarke was given a warm reception at his ancestral village Sridhara in Beanibazar yesterday afternoon.
Several thousand people thronged the reception venue at Sridhara Primary School as he reached there. Youths riding on a convoy of over 100 motorbikes received him at Sheola bridge and took him to the venue.
The upazila headquarters was decorated with festoons, banners and arches were erected on the road.
Ehsan Takbim, Dr. Shafiul Hossain, Kamal Rahman and Aziz Khondker, who accompanied Clarke spoke on the occasion.
On behalf of locals, Lion Kazi Matiur Rahman, Prof AKM Golam Kibria, Prof Shamsuddin and Lion Abul Hasnat, Nurul Alam and Ataur Rahman also addressed the colourful function.
In his short speech Hansen said, he was proud to be in his native village in Bangladesh.
"I am very much delighted to be here, though it is late. I was waiting for long for this day.
He also expressed his desire to be involved in development of the area.
After the reception, Hansen visited the graveyard of his forefathers and spent some time with family members at their ancestral village home.
His father Mozaffar Ali Hashim migrated to the USA in 1930s and married American lady Telma. Hashim died in 1965 in the USA.
Clarke was elected a Senator in Detroit city in Michigan in 2005.