Winter melodies around Poush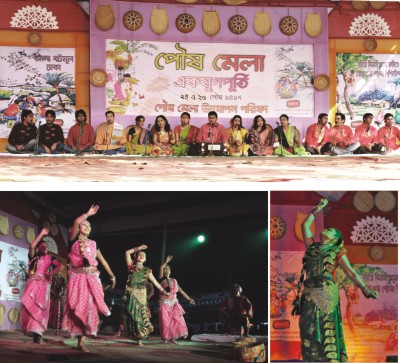 Bangladesh Poush Mela Udjapon Parishad organised a two-day Poush Mela at Ramna Botomul. The festival was inaugurated by eminent cultural personality and adviser of Mela Udjapon Parishad, Ramendu Majumdar, on January 7. The Parishad has been celebrating the festival in the city for the last 12 years. The festival is usually observed on the first day of Poush.
The cultural programme began at 7:30am on Friday. Singers of 'Nibedon' performed "Himel Hawaye Poush Elo." Then Shafiul Alam and Rupu Khan rendered some songs on the month of Poush. Nadira Begum, Nargis Chowdhury, Shuborno Kazi, Abu Bakar Siddique, Iffat Ara Nargis, and other artistes rendered chorus songs on winter and rural rituals. Indigenous artistes of the Garo community also presented traditional dances.
The festival featured rows of stalls of exotic pitha and other traditional delicacies. A splendid marquee was set before the colourful stage.
The programme was presided over by Golam Kuddus, vice president of Sammilito Shangskritik Jote. Biswajit Roy and Hasan Arif spoke on the event. They discussed the importance of representing the rituals of our seasons to the young generation. The event was hosted by Manjar Chowdhury.
The mela featured recitation, songs, theatre, street plays, jatrapala, dance and instrumental music.
Members of cultural organisations, including Nibedon, Spondon and Satyen Sen presented performances.
Ramna Botomul wore a festive look with enthusiastic crowds coming together at the weekend.