Noted character actor Saifuddin Ahmed no more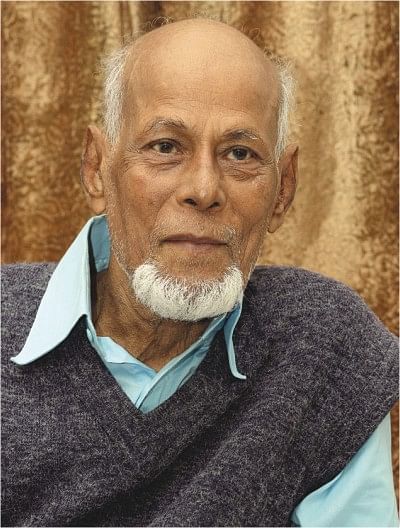 Veteran film actor Saifuddin Ahmed passed away on September 27 at the Combined Military Hospital in the capital. He was 83. Due to age-related ailments, Ahmed had been absent from films for a while.
The veteran actor fell and broke his hip in June this year. Because his physical condition was unstable, surgery was not possible.
Ahmed's body was brought to his residence "Mayakanon" at Kamlapur in the city. After Isha prayer, his namaz-e-janaza was held there and he was buried at Banani Graveyard the same day. He left behind his wife, a son and three daughters.
Saifuddin Ahmed was born at Dhubri, Assam (undivided India) in 1927. "He is credited with personifying different characters, mostly as a comic actor, in around 400 films and over a 100 TV plays," said his son Sayeed Ahmed.
The artiste started his career through "Mukh O Mukhosh", the first feature film made in this part of Bengal. Other notable films featuring him include "Jowar Elo", "Poroshmoni", "Moynamoti", "Etotuku Asha", "Badhu Bidaye", "Neel Akasher Nichey", "Smriti Tumi Bedona", "Shesh Uttor", "Boro Bhalo Lok Chhilo", "Nachghar", "Ujala", "Banshori", "Shomapti", "Akabaka" and "Beder Meye Jyotsna."
Ahmed signed director Chashi Nazrul Islam's film "Hason Raja." But he kept himself away from acting, as he couldn't remember dialogues.
Seasoned actor Hasan Imam said, "I visited him twice at CMH. He couldn't recognise me. We worked together in the film 'Mukh O Mukhosh', directed by his brother-in-law Abdul Jabbar. We also acted in several films directed by both Abdul Jabbar and Kamal Ahmed. Aside from films, Saifuddin was active in theatre and television. He was a man of qualities."
"He was suffering from several ailments for a while. I am deeply shocked at his demise. He was a good man," renowned actress Anwara said.
Actor Faruk said, "All are destined to leave this world. As an artiste I am personally shocked at his death. I am praying for his soul."
Information and Cultural Minister Abul Kalam Azad; State Minister for Cultural Affairs Promod Mankin and Information Secretary Dr. Kamal Abdul Naser Chowdhury expressed deep shock at Ahmed's death. They prayed for salvation of the departed soul and conveyed their deep sympathy to the bereaved family members.
Bangladesh Chalachitra Parichalok Samiti, Shilpi Samiti and Projojok Samiti also expressed their shock at Ahmed's demise.