Children exposed to toxic pesticides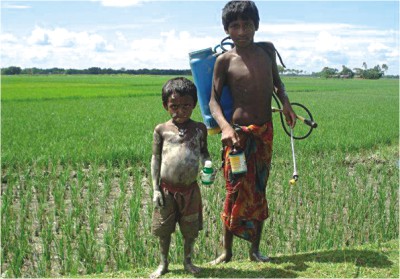 Ten-year-old Noor Mohammad was spraying pesticide and fungicide in the paddy field his father cultivates. He was also performing the dangerous act of blowing the spraying pipe from time to time to make it work smoother -- his body parts including his eyes totally unprotected against the killer toxins.
After an hour of such risky toil in the burning sun, he washed his hands with plain water and ate his lunch -- rice and boiled spinach.
Bangladesh Labour Law, 2006 strictly prohibits engaging children below 14 years in any work while children below 18 years in any hazardous work.
The legal bar, however, doesn't stop Noor of Nilphamari, and thousands of other children across the country from handling toxic pesticides to support their families.
"Inhaling or even touching insecticides or fungicides can have long-term effects on children as their skin, muscles and bones are tender," Abdul Majid, Jaldhaka upazila health and family planning officer said, adding, it might even hamper their growth.
These mixtures consist of superior toxins that kill fungus and insects even at the slight contact, and direct contact can be "extremely dangerous" for humans too, experts say.
Mostafizur Rahman, deputy director of the Department of Agriculture Extension in Nilphamari, said even adults should wear special suits, gloves and glasses to protect their body parts while spraying pesticides.
The agriculture department warns that people exposed to pesticides are highly vulnerable to a variety of diseases including asthma and liver infection from inhalation and coming in contact with these toxins.
Therefore only adults should spray them, as children are more vulnerable, department officials say.
However, poverty and lack of awareness are among other factors that make many a Noor Mohammad victim to such health hazards.
On the farm Noor was spraying insecticides, his parents and 5-year-old brother Shahbul were weeding.
"I asked my son [Noor] to spray pesticides, as I can't afford a labourer for the work," said Noor's sharecropper father Rafiqul Islam.
Farmers Shafiar Rahman and Jonab Ali also have their sons Mizanur, 11, and Shobuj, 12, spray pesticides. They share the same concern as Noor's father -- their inability to afford to hire someone for the job.
Employing their sons in farming was their only option, they said, adding, it is important for the maintenance of their families -- more important than sending them to school.
"Many poor and ignorant parents want their children to work and help reduce their sufferings, and involve them in hazardous work on the farms," said Mizanur Rahman, a former chairman of Ramnagar union parishad in the area.
Shahin Jahangir Alam, an official of a local NGO that works with children, said awareness-building campaigns are imperative for the laws against hazardous child labour to be of any effect.
Syngenta Bangladesh, an agro-input marketer, conducts farmers' meetings throughout the country to promote safe and judicious use of pesticides, the organisation's Managing Director Sarwar Ahmed said.
Under the programme, farmers are educated on cautionary measures to be taken prior, during and after spraying pesticides, which is necessary to safeguard their health, he added.