Mahila Samiti's new building to have two auditoriums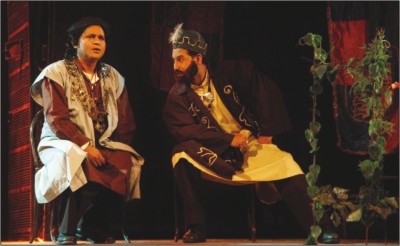 Bangladesh Mahila Samiti, which is widely considered as the epicentre of neo-theatre movement in the country, will have two state of the art and multi-functional auditoriums in its newly planned building. The decision came after a rumour that Mahila Samiti's new building would not include any auditorium.
A team of delegates from Bangladesh Group Theatre Federation (BGTF) had a formal meeting with the Mahila Samiti authorities on September 4, where designs of the planned auditoriums were unveiled.
The new auditoriums would be named after Dr. Nilima Ibrahim and Ivy Rahman, two former presidents of the Samiti. The Nilima Ibrahim Auditorium would have 300 seats, while the Ivy Rahman Auditorium would have 200 seats. The new building would have eight floors.
Leaders of BGTF expressed their appreciation to the Mahila Samiti authority to keep the theatre heritage alive.
"Mahila Samiti has a great historic value considering the theatre movements in Bangladesh. The institution authority is aware of this. It is a good initiative. I hope the new auditoriums would be better than the present one," said Ramendu Majumder, president of ITI Worldwide. Majumder was a member of the BGTF delegation.
The team also included Nasiruddin Yousuff, chief of Dhaka Theatre; Liakat Ali Lucky, president, BGTF and veteran theatre activist Keramat Mawla. Amongst Mahila Samiti authorities, Sitara Ahsanullah and Tania Bakht, president and general secretary respectively, were present at the meeting.
President of BGTF, Liakat Ali Lucky, expressed his contentment and said, "Mahila Samiti is not only a place of value for the theatre activists, but rather it has been a centre for all forms of cultural practices. I hope the auditoriums will bring back the golden days of Bailey road."
Bangladesh Mahila Samiti, known before 1972 as the All Pakistan Women's Association, was founded in 1949. It was a government-sponsored organisation for women from the middle class families with the objective of initiating voluntary social welfare activities. It was given its current name in 1972.
The first public show at the Mahila Samiti auditorium was Nagarik Natya Shampradaya's "Baki Itihash". Aly Zaker directed the play.