New horizons for Farhana Mili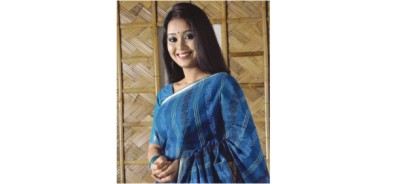 Following her brilliant performance in the superhit film "Monpura", actress Farhana Mili remains busy with numerous Eid-special TV plays. Fifteen of her plays are on the list for release during Eid: Shumon Anwar's "Binishuto"; Sazzad Shumon's "Chiley Kothhar Shopno"; Torikul Islam's "Bou Shashurir Therapy"; Noman Robin's "Pankha"; Jibon Shahadat's "Eksho Aat-ti Nil Poddo"; a joint production by Shubho and Ujjol, "Mondo Bishshash" and more. Highlights are "Bashon", written by the late Selim Al Deen and "Nokshi Kathar Mathh" an adaptation of the Jasimuddin classic. The latter pairs Mili again with her co-star from "Monpura", Chanchal Chowdhury.
Mili's acting career began with the ntv serial "Jhut Jhamela". She currently has one serial on hand -- Golam Sohrab Dodul's "Shohore Shobuj Nokkhotro". Talking about the serial, the actress says that Chanchal Chowdhury is acting opposite her, and the plot is set in a city near Dhaka.
Mili admits that she prefers working in one-hour long, single-episode plays which offer more experience and give room for experimentation with the diverse characters, unlike serials. The actress also believes that viewers have a greater appreciation of hour-long TV plays rather than long-running serials.
What about film offers following the success of "Monpura"? Mili says that despite several opportunities, she has by and large not taken to the medium. However, she is currently working on a movie titled "Shimanter Choruibhati", directed by Shirin Pasha. Mili terms the plot of the film "very interesting," as the timeline covers a wide period from 1950 to 1985, and delivers a picture of contemporary India, Pakistan and Bangladesh. Mili plays the role of Ranga, a Manipuri girl, in the film. Filming has already begun, with further scenes to be shot in Mumbai. "Shimanter Choruibhati" is set to be released next year.
Mili says that like many others, she dreams of working in films. However, the movie of her choice needs to have "life", and the character, challenging, she says.