"Sitar Agni-Parikkha" gets a new look
Saymon Zakaria's monodrama, with some changes, premieres today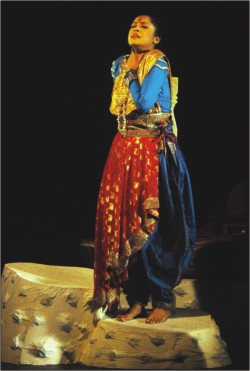 Shadhona, a centre for advancement of South Asian music and dance, presented the monodrama "Sitar Agni-Parikkha" on stage in July, last year. Eminent Indian actor Averee Chaurey played the protagonist. This year, Shadhona is staging the play with some changes. The main change is re-casting of the lead.
Instead of Chaurey, Bangladeshi actress Naznin Hasan Chumki will don the multiple roles in the production. Chumki is also directing the play. This is the first time in Bangladeshi theatre that an actress is enacting the protagonist in a monodrama and directing it as well. Some technical changes have also been made in the play.
The premiere of this version of "Sitar Agni-Parikkha" will be held this evening at 7pm at the Studio Theatre Hall, Bangladesh Shilpakala Academy. Saymon Zakaria has written the monodrama.
The play sees the heroine of the epic "Ramayan," Sita, in a new light. The story begins at the ashok-kanan in demon king Ravan's Lanka palace, where Sita laments her abduction and captivity.
Lubna Mariam is the choreographer of the play. Zahidul Kabir Liton is the music director, while Amlan Biswas and Aly Ahmed Mukul respectively are doing the light and set designs. The cast and crew also include Ayan Chowdhury, Ashim Natto, Laurence Uzzal, Mithun and Koli.
The play will also be staged tomorrow at the same venue and at the same time.