Frequent Outages in Patuakhali, Barguna
Fishermen, traders count loss for want of ice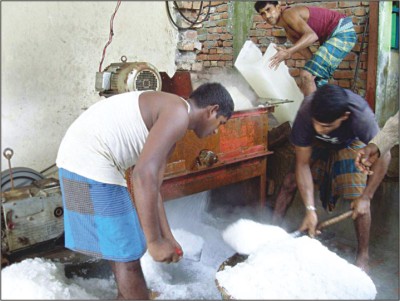 Fishermen and fish traders in the coastal areas of Patuakhali and Barguna districts are facing losses due to storage problem as ice production has greatly reduced following frequent power cuts and low voltages.
Fishermen have to sell fishes including hilsa for almost half the usual prices in local markets as they cannot store it due to lack of ice and cold storage in the area.
Failing to manage sufficient ice, many trawlers waiting at Mohipur fish landing station in Kalapara upazila under Patuakhali district could not move to the sea for fishing.
Of the 52 ice plants in seven upazilas of the district, 26 are in Mohipur area but at least 10 of them faced closure during the last couple of years as owners incurred losses due to poor electricity supply, said sources of ice plant owners association in Patuakhali.
"We can produce only 350 to 400 cans of ice daily but average demand is 1200 to 1400 cans here. The situation has worsened during the last two weeks as Rural Electrification Board imposes six to eight hours of load shedding daily, hampering production of ice," said Mojibur Rahman, manager of Gazi Ice Plant.
Low voltage also causes problem to ice production.
"We could not send our trawlers to the sea due to shortage of ice. We can collect ice from Bhola and Khulna districts but it adds to the cost," said Abdus Salam Howlader, former president of fish traders association in Mohipur.
"We have to buy a can of ice for Tk 200 to 250 although its normal price is Tk 70 to 90 in local markets," Fazlu Gazi, president of fish traders association in Mohipur said.
Same is the situation in Pathorghata of Barguna district.
"Fish processing is hampered as we are facing ice crisis for a month," said Golam Mostafa Chowdhury, president of fishing boat owners' association in Barguna.
When contacted, Rabindra Nath Poul, general manager (GM) of Patuakhali Rural Electrification Board (REB), said, "We are getting supply of only 6/7 megawatt (MW) power from WZPDCO (West Zone Power Distribution Company Ltd) against a daily demand of 16 MW for over 80,000 consumers in Patuakhali and Barguna districts."
"We sent a letter to the convenor of regional load management committee also managing director of WZPDCO in Khulna region demanding allotment of additional 3 MW electricity for Mohipur feeder as we are now getting only 1.5 MW on an average daily against the demand of 6/7 MW. We are trying our best to ensure power supply in Mohipur area for the sake of hilsa business," he said.
When contacted, an engineer of WZPDCO said, "We need 24 to 26 MW power in Patuakhali daily but only 11 to 12 MW is being supplied from the national grid."