18 ancient clay seals found at Bhasu Bihar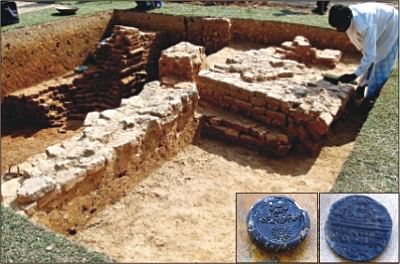 Archaeologists have discovered 18 ancient clay seals, mostly from the Pala dynasty, and two brick-built structures at Bhasu Bihar archaeological site in Shibganj upazila of Bogra during an excavation.
One of the clay seals bears the first "Dharmachakra" message of Gautam Buddha inscribed on it, said Nahid Sultana, custodian and a member of the excavation team.
A seven-member team of the Archaeology Department headed by Regional Director Abdul Khaleque started the excavation work on 22 November.
Nahid Sultana said most of the 18 seals are 1,000 years old.
A few small pieces of bronze and two ancient brick structures were also found in separate excavations in the site.
Nahid said the department could not yet determine the age of the two brick structures but one of them is "very old".
The width of the brick built walls is similar to that of the main structures of the monastic cells and temple at Bhasu Bihar, she added.
Bhasu Bihar is an important archaeological site in South Asia. According to documents, Chinese pilgrim Hiuel T-sang saw more than 700 monks at the Bihar when he visited the place during 639-645AD.