Srijonshil Natyatarun Tanushri Podok 2010 conferred
Natyadhara stages "Kando Nodi Kando"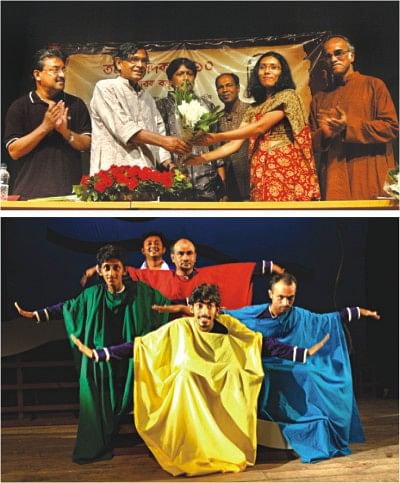 Theatre troupe Natyadhara conferred Srijonshil Natyatarun Tanushri Podok 2010 on promising theatre activist Samina Lutfa Nitra at a programme held at Experimental Theatre Hall of Bangladesh Shilpakala Academy on June 27.
Renowned educationist Professor Abdullah Abu Sayeed was the chief guest at the programme. Writer and one of the trustees of Liberation War Museum, Mofidul Haque, delivered the Tanushri memorial speech. Theatre director Shamsul Alam Bakul also spoke at the event. Chief secretary of Natyadhara Masud Parvez Mizu presided over the session. Alok Basu, convenor of Srijonshil Natyatarun Tanushri Podok 2010, was also present.
A number of references and quotes were aesthetically incorporated in Mofidul Haque's memorial speech, entitled 'Theatre and Politics.' Elaborating western theatrical perspectives and linking those with the complex socio-economic and political reality, Haque talked about the emergence of theatre movement in the subcontinent, especially Bengal.
Cultural and theatre activist Tanushri Gain was an emerging talent. Fellow members of Natyadhara have kept alive Tanushri's ideals through conferring the award. Saidur Rahman Lipon, Nasirul Haq Khokon, Ashish Khandaker, Traupa Majumdar, Aminur Rahman Mukul, Kamal Uddin Kabir, Dilip Chakraborti, Jaglul Alam and Rahul Anand have so far received this award.
Samina Lutfa Nitra is an Assistant Professor of the Sociology Department of Dhaka University and is working on her PhD From University of Oxford. She started her career in theatre through Shubachon Natya Shangshad. Later, she became one of the founding members of theatre troupe Bottola. "Rashtra Bonam," "Khandani Kissa," "Tirthankor," "Rupoboti," "Khudhito Pashan," "Khona" and "Dhamail" are some of the plays that she has performed in.
Professor Abdullah Abu Sayeed handed an uttario and a crest to Nitra.
Later, artistes of Natyadhara staged their 16th production "Kando Nadi Kando." Manjurul Hasan Dulal adapted the play from a Syed Waliullah novel. Masud Parvez Mizu directed the play.