Garment sector in dire straits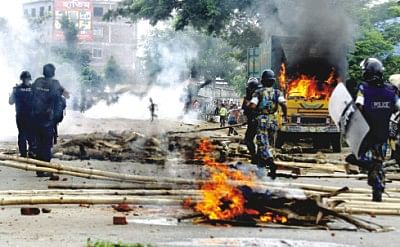 The shutdown of all garment factories in Ashulia yesterday has given rise to fear of economic losses in the manufacturing sector, although the owners have decided to reopen today.
Apparel entrepreneurs said they were caught in a double bind, as they were forced to keep their factories closed in the wake of a labour unrest, but the shutdown has cut into production. As a result many run the risk of missing delivery deadlines.
Bangladesh Garment Manufacturers and Exporters Association (BGMEA) said days of violent protests created "panic and anarchy", and forced factories to close.
Angered by the shutdown, thousands of workers blockaded roads for hours and vandalised vehicles in the industrial hub near the capital yesterday. The workers turned up for work, and began protesting the shutdown, and attacking law enforcers, said police.
The labour unrest stemmed from the workers' demand for hiking their minimum monthly salary to Tk 5,000 from the current Tk 1,650.
Now the owners might have to send shipments by air to meet the deadlines, which is costly, said Delwar Hossain, deputy managing director of Ha-Meem Group, a leading garment company hit by the labour unrest.
Another garment exporter said he might have to bear an additional spending of $36 lakh to send shipments by air to two buyers. It costs $4.5 per kilogramme to ship garment products by air, and the freight charges must to be borne by the garment factory owners, not buyers.
Sector leaders said economic loss from the shutdown of about 250 factories will be huge.
BGMEA President Abdus Salam Murshedy said he did not have an exact amount of the loss caused by the shutdown.
But another BGMEA official said the loss might run into millions of dollars, as now it might be nearly impossible for many factory owners to meet the delivery deadlines.
According to a report from drapersonline.com, a fashion news website, international buyers Marks & Spencer, H&M, and Zara are facing the threat of severe delays in stocking deliveries following the closure of garment factories in Bangladesh.
Ifty Islam, managing partner of Asian Tiger Capital, an investment bank, said the minimum wage in Bangladesh's garment sector is the world's lowest. The cost of living has been increasing 10 to 15 percent a year, but salaries have not been adjusted, he added.
"The owners must compromise, and need to cut profit to raise workers' wages to a level which is acceptable."
The only solution is to increase wages for workers, but it will squeeze the profit margin for garment factory owners. So, foreign buyers should understand that they need to raise order prices as well, Ifty Islam said.
"We all should pay a little more. It will be a good balancing act."
PROTESTS
The workers damaged some vehicles, burnt tires, and vandalised some factories in Ashulia yesterday protesting the shutdown, police said.
They put up barricades at Jamgora and Baipail on Dhaka-Tangail highway as well.
Police and Rapid Action Battalion (RAB) rushed to the spot, and brought the situation under control at noon. Road communication was restored after the demonstrators were removed from the highway.
During the demonstration 30 workers were injured, said local residents.
Meanwhile, Labour and Employment Minister Khandaker Mosharraf Hossain in a meeting with leaders of the Federation of Bangladesh Chambers of Commerce and Industry, and BGMEA said an initiative is underway to announce an acceptable wage scale for the workers before July 28.
He however issued a warning saying any chaos in the garment or any other industrial sector over wage raise will not be tolerated.
The government formed a minimum wage commission for the garment workers in January, headed by Ikteder Ahmed. The commission held some meetings, but could not reach any decision yet.
DEMANDS
An alliance of 14 garment workers' associations yesterday reiterated its demand that the government must fix the minimum wage at Tk 5,000 immediately.
At the same time, it urged the government to take necessary steps to open the closed factories in Ashulia, and to stop arrests and harassment of workers who have been protesting for the last four days.
At a media briefing in the afternoon, Mahbubur Rahman Ismail, president of Bangladesh Textile Garment Workers Federation, said the government must protect the rights of all workers.
"The government took a three-month time from April 27 to fix the minimum wage for ready-made garment workers. But no progress has still been made," he complained.
Criticising BGMEA for closing all factories in Ashulia, he said, "According to the existing labour law, the association or an owner must give notice prior to any closure or production suspension."
He also complained that the factory owners in Ashulia have been harassing protesters using police and hired goons for the last couple of days.
The alliance announced a demonstration at Muktangon of the capital today at 4:00pm, and demonstrations across the country on Friday.
Idrish Ali, president of Garment Sramik Trade Union Kendra, and Moshrefa Mishu of Bangladesh Garments Workers Unity Forum also spoke.