Patient's Death
DMCH doctors assaulted, ward ransacked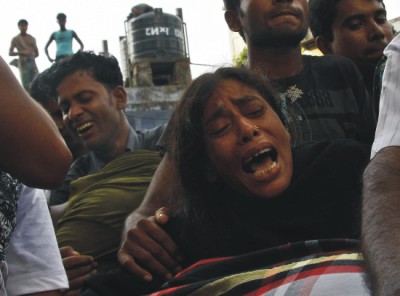 Relatives of a patient yesterday vandalised an emergency ward of Dhaka Medical College Hospital and assaulted its doctors and nurses alleging that negligence in treatment led to the patient's death.
The violence caused panic among the doctors, nurses and patients. Regular activities in the ward came to a halt for about an hour.
Former Dorichar union parishad chairman Bazlur Rahman, 45, of Mehendiganj upazila in Barishal was rushed to DMCH around 3:00pm after he was injured in a road accident at Manohardi in Narsingdi around 11:00am, DMCH sources said.
Witnesses said soon after the on-duty doctors declared Bazlur Rahman dead, around 50 of his relatives got furious and started to smash the windowpanes of ward-30. They began to chase the doctors and nurses.
After the attack all the doctors and nurses of the ward fled the scene.
One of the relatives of Bazlur Rahman alleged that after over an hour of the patient's admission doctors and nurses came to see him.
"If the doctors and nurses had treated the patient immediately after his arrival, he would not have died," said a relative of Bazlur Rahman.
However, on-duty doctor Rafiqul Islam of ward-30 denied the allegation and told The Daily Star that they had tried their level best but the patient died as he was in a very critical condition.