Tagore in translation
Sabbir Chowdhury on film adaptations of the maestro's works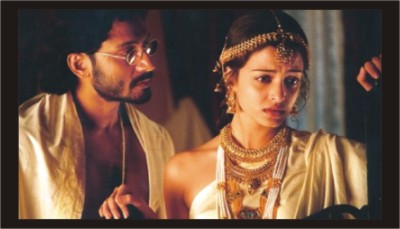 "Films have to be liberated from literature"
-- Tagore in "Pashchim Jatrir Diary"
"Two-thirds of all feature films are based on literature (fiction and nonfiction)," says Sabbir Chowdhury. A teacher of the English Department, Jahangirnagar University, Sabbir has been actively involved with film societies in Bangladesh for over two decades. Sabbir is a member of FIPRESCI (The International Federation of Film Critics), the general secretary of Zahir Raihan Film Society and vice president of Bangladesh Federation of Film Societies. He also has a not-so modest collection of over 4,000 movies in all formats -- VHS, LD, VCD and DVD.
Going over film adaptation of literature, Sabbir says, "There can be two ways to adapt: literal and creative. Needless to say, it takes a gifted filmmaker's profound understanding of the literary work and the author's identity to be able to accomplish a creative adaptation."
Addressing film adaptations of Tagore's works, Sabbir says, "Around 70 films based on Tagore's novels, short stories and plays have been made so far in the subcontinent. Most of them are naturally in Bangla. However, there are a few adaptations in Hindi, Punjabi and Urdu. Apparently Bimol Roy's Hindi feature film 'Do Bigha Zameen' (1953) was inspired by Tagore's poem 'Dui Bigha Jomi'."
The number of adaptations of Tagore's stories is not that impressive considering Sarat Chandra's "Devdas" alone has had over 8 adaptations. Are filmmakers discouraged to adapt Tagore's literary works? "There are a number of reasons for that actually. Bangla being a regional language in the Indian context, Tagore's works, specifically his novels and short stories, haven't had mass exposure throughout South Asia. Subtlety is one of the key traits of Tagore's stories, whereas exaggeration of drama is a common feature of Sarat Chandra's works. Commercial films thrive on melodrama; the kind of subtlety prevalent in Tagore's work has not been encouraged.
"Human psyche and nature are major elements in Tagore's stories. It takes a deft filmmaker to incorporate these elements," Sabbir says.
"If we consider film adaptations of Tagore's literary works, starting from the silent film 'Manbhanjan' (1923) by Naresh Chandra Mitra to the recent movies -- the majority are literal adaptations. In most cases these adaptations are by mediocre filmmakers who have little or no understanding of Tagore. For instance, Tapan Sinha made three films based on Tagore's works -- 'Kabuliwala' (1956), 'Khudhito Pashan' (1960) and 'Atithi' (1965). Of these, 'Kabuliwala' was popular because of its mass appeal; the others were just below average productions.
"Even adaptations by ace filmmakers like Mrinal Sen and Purnendu Patri -- 'Ichchhapooran' (1970) and 'Streer Potro' (1973), 'Maloncho' (1979) respectively -- cannot be considered 'Grade A' cinema.
"Satyajit Ray was perhaps the only filmmaker who could successfully translate Tagore into films. And to understand why, we have to consider Ray's background. Both Tagore and Ray belonged to progressive Brahmo families. Ray's father (Sukumar Ray) and Tagore had close ties. When Ray went to Shantiniketan to study fine arts, Tagore was still alive. So, it's understandable that Ray would have a sound understanding of Tagore as an individual and an author.
"Ray used Tagore's stories but his films had their own language. He made changes where necessary (for which he was often criticised), keeping the central idea intact. The best demonstration of creative adaptation of Tagore's work is perhaps 'Charulata' (1964). Ray reconstructed the whole story (Tagore's 'Noshtoneer'). Instead of using the stereotypical narrative voice that'd say, 'this is Bhupati's wife Charu. Charu is lonely...,' Ray showed Charu looking through the window, watching passers-by on the street with her opera glasses and then after a while getting bored... That is the language of films, that's how a master filmmaker lets images speak," Sabbir says.
Sabbir continues, "Of the recent adaptations, Rituporno Ghosh's 'Chokher Bali' (2003) was much talked about. The film boasts great art direction but efforts by the actors and the adaptation on the whole are not up to the mark."
"Three film adaptations -- 'Shasti', 'Shubha' and 'Kabuliwala' -- produced in Bangladesh are uninteresting and below average. However, 'Raktokarobi' (by Mustafa Monwar) remains the best TV adaptation of Tagore's work," says the film buff.