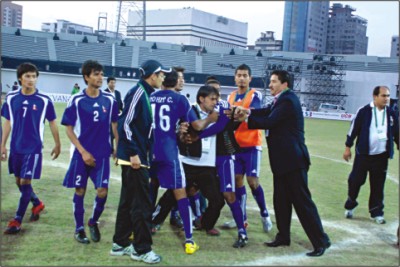 Ugly scenes followed the last whistle of the Nepal versus Maldives football match of the SA Games at the Bangabandhu National Stadium yesterday.
Hardly after the final whistle was blown, a host of Nepali players and a few officials came charging towards the match officials. Only police and organising committee officials came to rescue the officials from the fury of the Nepalese. Police had to cordon the match officials to safety.
Even the president of the Nepal Football Federation Ganesh Thapa was embroiled in the fracas. Thapa claimed that assistant referee Nasser Alshaffi had charged baton on Nepali player Jumanu Rai as he went for a hand shake which infuriated his colleagues and officials.
The Nepali players and officials had earlier stormed the pitch a couple of times even during the match protesting two penalty decisions that went against them.
It couldn't be immediately confirmed if Asian Football Confederation (AFC) would take any disciplinary action against Nepal. The assistant referee or the match referee declined to comment on the incident, but it was learned they would make an official allegation to the Disciplinary Committee.