Prof. Yusuf's Contribution to Brain Research
The weird chemistry of memory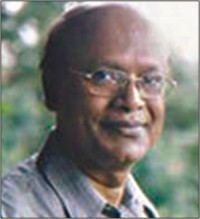 OUR failure to recall a memory of the past may be related to a Japanese demonstration of brain's newborn cell function, reported on last November 13. Incidentally two days earlier, Bangladesh lost one of her best scientists, Professor Harun Kader Mohammad Yusuf, an internationally recognized authority of human brain's biochemistry. It is therefore worth recalling his contributions before discussing the new findings. Harun bhai worked out the detailed bio-molecular composition of our brain, and effect of malnutrition on its development. Until his untimely death, he was Chairman of the Bangladesh National Nutritional Council.
As a PhD student at the University of Surrey in UK, he studied several dozen brains of children who died of starvation and malnutrition. The three easily separable parts of the animal brain, forebrain, cerebellum and brain stem, have distinct patterns of development. Although plenty was known about smaller mammal brains, he was
one of the pioneers in establishing the development pattern in the 3 regions from 13-week fetus to 26-month toddlers. These regions are made up of largely two types of cells.
Nerve cells (or neurons) receive, process, store and send out information to various parts of the body in the form of electric signals. Among many functions, glial (glue-like) cells make a protective covering around neurons so that signals are not lost, and also prevent a short circuit. Neurons can be compared to a copper wire while glial cells as outer plastic layer in the familiar electric cables. Glial cells are made of several types of fat (lipid) molecules, such as myelin, cholesterol, ganglioside, phospholipid, and others. Professor Yusuf determined the relative amount of these molecules in various parts of the brain, whose disproportionate occurrence (due to malnutrition) make the information processing erroneous. He published his results in several prestigious British and American journals.
Rats serve as a model for humans. At Dhaka University, he fed pregnant rats housed in specially designed cages, with a diet poor in protein. This diet remained same or modified for the mothers and newborns for 0-40 days after stopping feeding on mother's milk. By analyzing lipid composition of the brain, he concluded that malnutrition at any time during early age affect "..myelin development, and nutritional rehabilitation of animals malnourished in early life cannot fully correct this developmental gap". As a rare scientist, he published the results in highly acclaimed international journals, from work done in Bangladesh. His book, "Understanding the Brain and Its Development: A Chemical Approach", published by the World Scientific Publishing in 1992, was used as a text book at foreign Universities. His later fame with iodine malnutrition in Bangladesh will require a separate volume to write.
Different parts of the brain have defined functions. For example, neurons of an inner part, known as hippocampus, store short term memory such as what happened in the last few days, while another region, called neocortex, stores long term memory such as that of childhood.
The Japanese group blocked formation of new neurons at the hippocampus. They taught mice to be scared of electric shock. The animals with normal neuron formation helped the hippocampus cells to 'forget' the short term scary (shock) memory at hippocampus, yet when tested after 28 days, were scared to "freeze", because they retrieved the memory from long term storage area. On the other hand, the memory stayed in the hippocampus neurons (that normally gets lost over time) in those lacking new neurons. The new cells might transfer memory from short to long term storage area. In effect, the new results suggest that failure of new neuron formation will lead to problems because the brain's short-term memory is literally full. Their results were described in the journal, Cell.
Some health professionals believe that physical, as well as brain exercise by learning new knowledge, help develop new neurons. Extending the Japanese findings, one can expect that with the help of these new neurons, we should not forget the precious gifts we received from our leaders in the scientific and social arena.
The author, a former Dhaka University teacher, is a biomedical scientist working in the USA.