Weeklong theatre festival in Rajshahi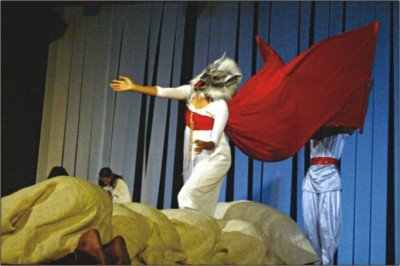 Rajshahi Theatre is holding a weeklong drama festival at Rajshahi Medical College auditorium to celebrate its silver jubilee.
The festival drew local theatre enthusiasts who crave quality shows.
"Visitors queuing up for shows is quite rare in this city," said Ahsan Kabir Liton, a cultural activist and senior member of Ritwik Film Society. He added that theatre is mostly Dhaka-centric but the audience in Rajshahi are just as keen on performing arts as in the capital.
An 18-member team of theatre artistes from West Bengal, India is participating in the festival as well as many actors from Dhaka.
"The Indian team is the first to visit Rajshahi since 1980," said Nripendranath Saha, leader of the visiting group.
As the festival began on December 30, performers of Rajshahi Theatre staged "Bhut-er Bhoy", a play written by Kazi Nazrul Islam.
Rajshahi University-based Anushilon Natya Dal performed the play "Bhumi Konya", written and directed by Professor Moloy Bhowmik. "Bhumi Konya" highlights the Tebhaga Movement during which farmers -- irrespective of caste and creed -- came together under Ila Mitra's leadership.
Center for Asian Theatre from Dhaka presented its latest production "The Communicator" -- a Henrik Ibsen play -- on the third day. Negative impacts of globalisation were the theme of the play.
Jugagni, the troupe from West Bengal, staged two plays -- "Hottyare" and "Ami Meye" -- last Saturday and another play "Ghum-er Manush" on Sunday.
Dhaka Theatre staged "Binodini" yesterday. The troupe will stage Selim Al Deen's play "Dhaboman" today.