Remittance: Behind shiny statistics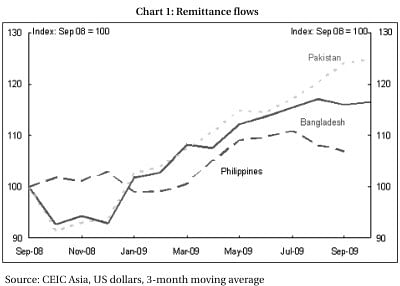 AIR Arabia is a low-cost carrier eating into Emirates and Etihad's dominance of the high-volume Bangladesh-Middle East route. On a recent Arabia flight, we noticed something odd: instead of struggling to carry heavy bags filled with gifts, many passengers were empty-handed and wearing sandals.
When immigration forms were handed out, the blue-collar workers asked the literate passengers to help fill out forms (a familiar experience on Middle East flights). At that moment, we noticed that these men had no passports, only a form from the Bangladeshi Embassy that was a "replacement for lost passport." Nestled within that form, the "last place of domicile" was listed as "Abu Dhabi jail."
It emerged, through halting conversations, that there were over a hundred deportees on the flight, all had been arrested after they were fired from their jobs, which made immigration papers invalid. This is where the low-cost carrier comes in as the cheapest option for deportation, at the migrants' own expense. What was the positive, active role of the Bangladeshi embassy during their ordeal in jail, and during deportation? We'll leave the workers' reply it to the reader's imagination.
Before parsing this anecdote, let's first telescope out to macro-statistics. At the beginning of the recession in September 2008, remittances were considered to be a major channel where Bangladesh would be affected. But a year on, remittance flows into Bangladesh have shown remarkable, counter-intuitive resilience.
But there are key differences according to source countries. Middle East accounts for three-fifths of our remittances, with Saudi Arabia alone accounting for nearly a third. Remittances from this region fell by 4% in October 2008, but then continued to grow to be about 15% higher in the year ending September 2009.
Contrast this with the US and UK (collectively another fifth of remittances). In September 2009, remittances from the US were about 9% lower than a year ago, while those from the UK were down 1%. During the nadir of the recession in these countries, remittances fell by 13% and 27%, respectively. So how did migrant workers in the Middle East keep remittances flowing, when those in the US and UK dropped?
Can the Air Arabia deportees illuminate one piece of this puzzle? According to their stories, since 2008, as mega construction projects in the Middle East have gone belly-up (something that will accelerate after Dubai World's recent debt default), many construction workers -- "slaves building monuments," according to Ghaith Abdul-Ahad in The Guardian -- have been fired immediately.
As soon as a worker is fired, he is "out of status"/undocumented. But most choose not to return home, since a family, and even a portion of a village, is depending on their income. Instead, they find another worksite that will hire undocumented workers, of course for a fraction of the legal pay. The calculation is simple: stay in the country and continue to work, knowing that you will eventually get caught.
When they do get apprehended (one deportee said he was arrested when he stepped outside for a cigarette break), they are sent to prison and eventually deported, with no chance of recovering their possessions and savings. Faced with layoffs, or at least diminished work opportunities, and eventual loss of any money earned, these workers told us that they send back all income as fast as possible through formal channels and hoondi.
In Yasmine Kabir's trenchant My Migrant Soul, the narrative uses the diary of a Bangladeshi worker who died while in custody in Malaysia. More recently, there are reports that when migrant workers die in workplace accidents, they are sometimes buried immediately and nothing is reported to the families. Malaysia has repeatedly had crises with stranded Bangladeshi workers, who arrive and find their construction jobs have disappeared. Yet, paradoxically, there was a jump in remittance from Malaysia ($20m in 2007, $324m in nine months of 2009), during this same period.
Even prior to the recession, a key difference between workers going to the Middle East/Asia and the West has been that the latter had one layer of middle class professionals, or at least middle-class aspirations. More importantly, migrants to America/Europe have a path to citizenship in their new homes, something completely absent in the Middle East/Asia. Thus, migrants to the West are more likely to spend and invest in their adopted countries. The working class migrant in the Middle East/Asia is always a "guest worker," and has no choice but to send earnings home.
Analysts celebrate remittance growth curves in seminars, but we need to unpack these shiny numbers. The Ministry of Expatriates' Welfare and Overseas Employment publishes the total number of migrant workers by year, but has no timely statistics on returns which, by evidence of our airports, is large. So we have no calculation of how many are coming back due to deportation or job loss.
Is a hostile and unstable work environment with no migrant rights and little job security resulting in large remittance flows, since Bangladesh is the only safe destination for blue-collar workers' earnings? This is not the only explanation for increased remittance flow, but it is certainly one possible factor, along with others that need to be explored. Finally, we need to demand, once again, that the government take real steps to represent and protect the rights of all working class migrants.
Jyoti Rahman and Naeem Mohaiemen are members of Drishtipat, a human rights group of the Bangladesh diaspora. E-mail:

[email protected]

.