Abdullah-Al-Muti Sharfuddin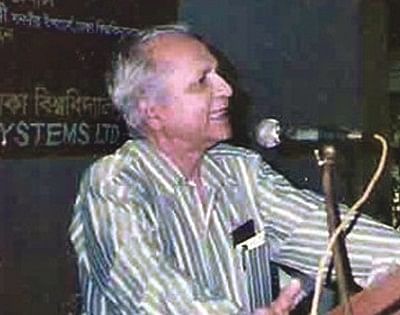 Abdullah-Al-Muti Sharfuddin (1930-1998) was a renowned educationist and popular science writer. He was born in January, 1930 in the village Phulbari in Sirajganj district. He stood first class first in MSc (Physics) examination from the University of Dhaka in 1953. He also stood first class first in B.Ed examination from the University of Dhaka in 1957 and then completed M.A. in Education from the University of Chicago, Illinois, U.S.A. in 1960. He obtained Ph.D. (Education) from the same University in 1962.
He started his career as a Lecturer in Physics at the Rajshahi Government College in 1954. He became Professor in the same college in 1955. He held the post Director, Education Extension Centre, Dhaka from 1965 to 1973.
Abdullah-Al-Muti started writing on science since his school days. At that time he contributed articles to the Dainik Azad ('Mukuler Mahfil') and Monthly Mohammadi. He was also associated with editing a Tabloid size magazine 'Mukul' and 'Mukul Fouz'.
Side by side with science writing he also wrote on problems and prospects of education in the Monthly 'Hullor' and 'Dilruba'.
He authored 27 books on science and education in Bengali, translated 10 books from English into Bengali, published over 500 original papers and articles (in English and Bengali) on science and education, participated in over 300 talks over Radio Bangladesh and Bangladesh Television on science and education. He was the Executive Editor of Unesco Batayan, a quarterly Bengali edition of Unesco Courier from 1982 to until his death.
He died on November 30, 1998.
Awards received
The awards he got from different socio-cultural organizations at home and abroad include:
UNESCO Award for literature in 1969;
Bangla Academy Award for literature in 1975;
Dr. Qudrat-e-Khuda Gold Medal for science writing in 1979;
Ziaur Rahman National Award for Education in 1981;
UNESCO Kalingo prize (International Award) for popularization of science in 1983;
Ekushey Padak (State Award) for Education in 1985; Kazi Mahabubullah Award for science in 1987; and, Agrani Bank Award for children's literature in 1988, etc.
Organisations he was associated with
He was the member and life member of various socio-cultural and scientific organizations like Asiatic Society, Bangla Academy, Islamic Academy of sciences, Bangladesh Association of Scientists and Scientific Professions, Bangladesh Association for the Advancement of Science, Commonwealth Association of Science, Commonwealth Association of Science, Mathematics and Technology etc.
Jamayet Ali is a science writer and former PRO of BCSIR.