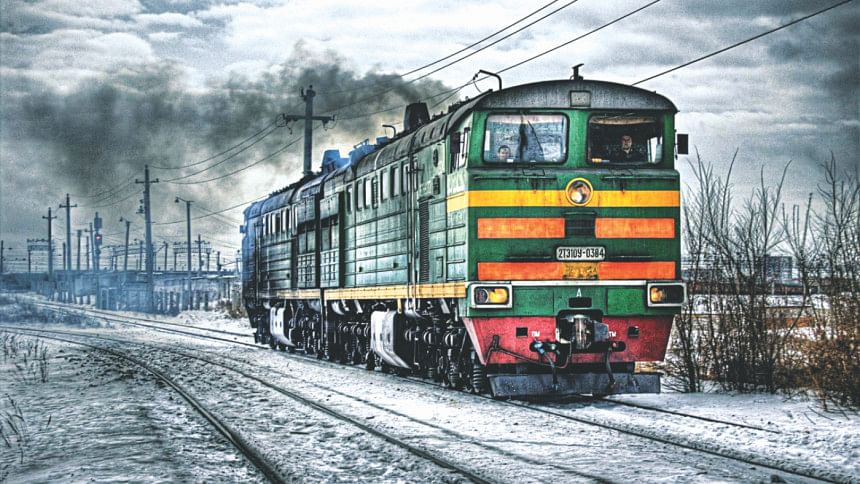 The white woman and her husband fell into silence again. About a while ago the train was heading east, and now, poised like a serpent that is about to stick out its fang, it suddenly stopped at a bend near a dried fish bazaar.
"Oh, that awful smell!" she said.
"I grew up with it. It always tells me that I am home," he replied.
"Not the best honeymoon destination, I presume," her voice was livid.
"Come on! Yeah, right! Honeymoon. You were ok with it before we boarded the train," her husband said.
"I know what you are trying to imply. It has nothing to do with it," she said.
"Perhaps you are now having second thoughts. I bet you now think the contract was a bad idea."
"What happened before we boarded the train shouldn't have happened," she said.
"That was not in the contract, I know. But haven't we moved past that? Is it not the reason why we are here? So that on our way to the resort, you can meet my folks and decide if you want to go beyond the contract?"
"You need me for the Card, right? What has happened before the train shouldn't have happened. You should have used the thing," she said.
There was a jolt, which made the train move back a little.
"It's my fault; I am sorry," he said.
"Yeah, that changes everything," she said. They both fell into silence again.
******************************
Since Desdemona fell for Ayatollah and Caliban tried to rape Miranda, English women have grown this thing for brown men. How else should I look at these two strange bedfellows who stood in front of me in the carriage of the train that instead of moving forward was going back?
They both remained silent most of the time. When the freckle spoke, it was in a whining voice. Oh, blimey! How she hated the smell of dried fish!
And the sodding idiot sitting right beside her, wearing an I'm-HIV-Positive t-shirt, started to romanticise about that blighted smell. Why was he wearing that t-shirt?
East London type, I guess. Tower Hamlet, in particular. Flown straight from some grungy restaurant in Sylhet. The ones who sliced onion in the kitchen the whole day, and saved money to marry the daughter off to some Brick Lane fool.
But the one in front of me was an exception. He married the freckle. Why, oh why?
It was quite hot outside; the AC never worked when the train waited on its track to let other trains pass. Freckle was sweating profusely. I followed a bead that tickled down her chin and moved like a dying, lonely river into the fold of one of her breasts. So small, so malnourished. I smiled.
The two started to talk, and I was all ears. A riddle it all seemed. Theirs is a contract marriage? Would they part their ways as soon as Ayatollah got the Card? Meanwhile, things happened. Things. I told you, the Brit chicks couldn't resist. Colonial hangover, I presume.
I chuckled. I went back to "The Tempest." The train didn't move, as though it would never move, as though we all waited for something to happen. Some thing.
This story was first published in Bengal Lights.