NAH!
I am sure it was sometime in 1965 that a classmate at St. Gregory's, Muhammad Ali Rumee, piqued my curiosity by describing a new movement in letters launched by some friends of his elder brother.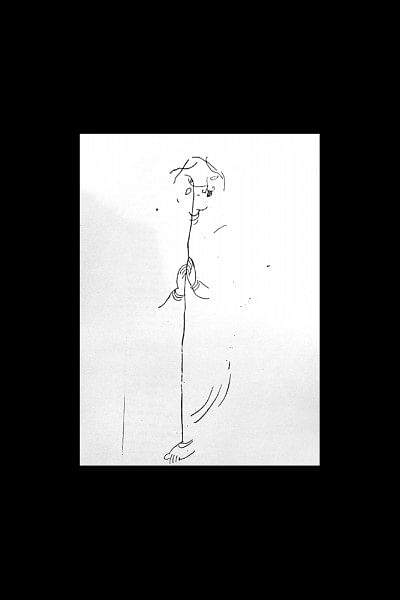 I am sure it was sometime in 1965 that a classmate at St. Gregory's, Muhammad Ali Rumee, piqued my curiosity by describing a new movement in letters launched by some friends of his elder brother. Rumee would go on to become a hotshot banker but at fifteen he prided himself on his literary acumen. He told me that his brother's friends were Nihilists and had launched a little magazine titled, simply, Na (Bangla for "No"). Besides the snappy negativity of the title, the magazine had a policy to make each appearance in a unique, unpredictably unconventional format. The second issue, just out, was printed on brown wrapping paper, measured five and a half inches across and at least half a yard long, with covers cut out of jute sacking.
On my way home from school I picked up a copy from a newsagent who stocked out-of-the-way publications. The strange format gave me a little thrill. The contents matchingly included modernist sketches and visually arresting, Apollinaire-inspired concrete poems, charmingly dubbed "chhobita" by their perpetrator, Rabiul Husain (our Rabiul bhai). The copy remained in my possession for years before disappearing from my library. I did not see any other issue of the magazine until recently, when I decided to write something about the Na Movement. I badgered Rabiul bhai until he fished out all four issues of the magazine from his collection and made photocopies for me. As a top-up he handed me a copy of an article in Bengali that he had written as a retrospective account of the movement.
As a general rule for dealing with writers and movements I take into consideration three contexts, biographical, literary, and historical. Na was launched by a group of architecture students at BUET. They were all young men, a detail of sociological interest that needs to be highlighted in this post-Feminist age. All the Twentieth-century literary movements and coteries that I can think of in this country and across the border were all-male affairs. With the number of women writers growing every day, one hopes that any movement in future will be a mixed-gender one. Of course, I should add that by the look of things literary movements seem to be things of the past.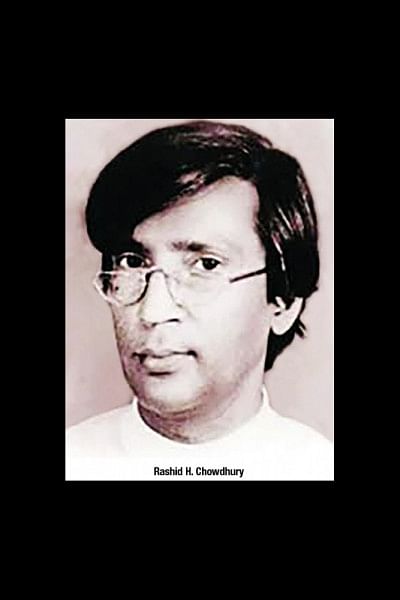 University students by and large look forward to an upwardly mobile future, but they are also liable to suffer stresses and strains if there is a disjunction between their predilections on the one hand, and the wishes and values of parents and the social establishment on the other. The conflict, however, can be beneficial and productive in the creative sphere. One could cite numerous examples from the sixties, in Bengali and in western literature.
The Establishment in our sixties meant Ayub Khan and his cohorts and their "controlled democracy," with Opposition leaders flitting in and out of jail. Parents were anxious to have their children (read "sons") well settled, preferably in the Civil Service, or at least in one of the respectable professions. Architecture as a profession was still in its infancy in this country, which must have added a touch of ambiguity to the status of those studying it. Dabbling in "modern poetry" was as bad as being anti-social. The Na-sayers were quite willing to court such notoriety, in the good old modernist/Decadent tradition of Epater la bourgeoisie.
Bangladeshi poetry had already acquired a High Modernist slant in the work of Shamsur Rahman, Syed Shamsul Huq and Shaheed Quaderi, a surrealist edge in Abdul Mannan Syed, and a brash rebelliousness in Rafiq Azad; the last two were members of the short-lived Sad Generation, which in a manifesto in English proclaimed their existential angst. And in Calcutta the Hungry Generation declared war on the literary conventions of their forebears.
Unlike the established Bangladeshi modernists, the Na poets eschewed traditional forms and advocated a freewheeling style that incorporated so-called obscenities. There were examples of new modes like concrete poetry, experimental prose, and the original intention was to promote all genres. The grand design was to remain unrealized, no doubt for a variety of reasons. Perhaps the group as a whole ran out of steam; more plausibly, political events took a dramatic turn and this led to the movement's superannuation. The launch of the six-point movement in 1966 revitalized the Opposition, and the fiasco of the Agartala Conspiracy Case put the government on the back foot. Released from custody, Bangabandhu led a struggle for autonomy that, with the Army crackdown, turned overnight into a war of independence. Now it was no longer enough to say Na! One had to say yes to a lot of new values, even if they eluded realization.
The literary scene altered after independence. Little magazines lost their vibrancy and literary supplements of newspapers became the major forum for writers. New generations of poets came into prominence – Nirmalendu Goon and Abul Hasan, Rudra, Taslima Nasreen, and younger ones in growing numbers – but no one was interested in launching a new movement or school with a clearly articulated programme. Movements were no longer fashionable. In fact, the two movements of the sixties, the Sad Generation and Na, not only faded from memory but even lack virtual burial sites on the internet.
What are we to make of Na today, as a literary and cultural phenomenon? Its broad location should be clear by now; it occupies the no-man's land whose terrain is delineated by diverse international movements and trends, Existentialism, Absurdism, the Beat Generation, the Angry Young Men, the Situationists. In conversation, though not in his article on Na, Rabiul Bhai mentions Tristan Tzara and Dadaism as a tutelary presence. But Dada is a hard act to follow; neither the Beats nor the Hungryalists nor our Sad Generation and our Na could match, not to mention surpass, Dada, which remains the ultimate mani festation of aesthetic Nihilism. I offer the opening paragraph from Tom Sandqvist's recent study, Dada East: The Romanians of Cabaret Voltaire (MIT Press, 2006), by way of evidence:
Dada was a curious movement. Early in the last century the Dadaists were shouting and yelling, roaring and bawling, standing on the tiny platform of the restaurant Meierei in Zurich trying to carry out a global revolution in art and culture. They recited so-called simultaneous poems, poemes simultanes, totally incomprehensible verses of nonsense. Often dressed in grotesque costumes and mostly in funny, ridiculous, but occasionally dreadful masks as well, they performed equally absurd, idiotic, "meaningless" small plays, hit both small and big drums and lids of saucepans and frying pans, gave deafening hissing-concerts, and sang howling "negro songs." The dadaists mocked the audience as much as they could, stamped on the floor, roared and yelled, tore to pieces conventional poetry, tore into rags syntax and grammatically correct constructions of verbal meaning, turned upside down both particular words and language itself, the letters, the sentences, formerly well-organised and architecturally well-composed meanings. Everything was spread out on the same flat surface or was thrown into the same boiling, bubbling, babbling pot.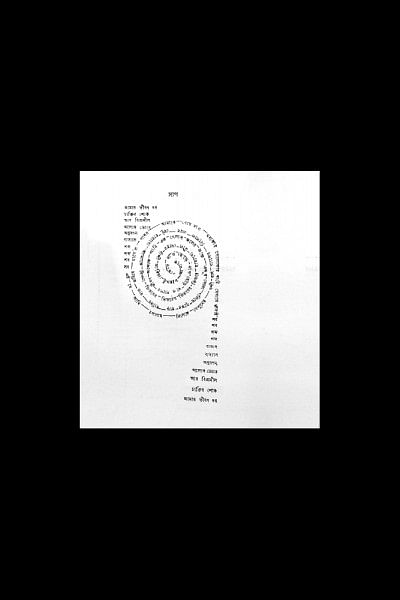 At the outset the core group of Na comprised, besides Rabiul Bhai, his fellow architecture students Taju Chowdhury (our late lamented Taju bhai), Kazi Shahid Hasan Farid and Sayeed Mustafa Kamal, and their friend from Dhaka University, Mahbub Husain Khan. All of them contributed to the inaugural 32-page poetry issue, which also included Inamul Kabir, who would, sadly, meet an early death; and another one-off contributor, Rafiq Azad, who gave an original poem and a translation of a poem by Voznesensky. The first page sported four anonymous lines with philosophic implications:
We know what we are
We know where we are
We know when we are
We don't know why
Not long after the appearance of the first issue, the members of the core group met the Paris-returned artist Rashid Chowdhury (1932-86), their senior by ten years or so. He was inducted into the group as its artistic mentor. The startlingly original format of the second issue was his creation. But why this particular choice of materials? Brown wrapping paper appears on the outside surface of packages. Here it makes up the inside of the publication, a vehicle for its contents, textual and visual; have a reversal of function here. The "wrapping" of a book or magazine is its cover, in soft or hard binding. Here we have the stuff used for wrapping bales of goods: something seen purely as a commercial product is the protective covering of an aesthetic offering. These are examples of a Dadaist subversion of convention. There is more: Rashid Chowdhury's major artistic contribution is in tapestry. Can't we see the jute sacking covers as a modified form of tapestry? We can also move from aesthetics into economics and politics. The jute industry, as Tariq Omar Ali has shown in his book A Local History of Global Capital (Princeton University Press, 2018), "entangled the delta's peasantry in the rhythms and vicissitudes of global capital." In the sixties, jute was our major foreign currency earner and hence a key aspect of the economic argument in the struggle for autonomy. Jute covers for a literary magazine could be seen as a flag of our disposition, if I may adapt a phrase from Whitman.
Sadly, the coming of independence coincided with the collapse of the jute market, as synthetics rapidly replaced "the golden fibre," producing a nostalgia from which we haven't yet fully recovered. Meanwhile, we have become entangled with the global economy once again, through the RMG industry, and, if we do not rapidly diversify our economy, may face another disaster with a crisis in global capital.
Among all four issues of Na, the most interesting range of textual and visual delights is to be found between the jute covers. There is a sketch by Rashid Chowdhury titled "The Kiss"; he has also translated nine poems by Robert Desnos. Sayeed Mustafa Kamal has translated two German poems. Mahbub Husain Khan's essay on the isomorphic universe doesn't quite fit in, unless lay readers treat it as a Dadaist spoof. (Soon after, the author abandoned physics to squander his intelligence in the bureaucracy). Taju bhai's poems with their Romantic flavor come closest to the poetic mainstream. Rabiul bhai is wholly experimental, as are Kazi Shahid Hasan and Sayeed Mustafa Kamal.
From the second issue Na announces itself as a movement, and lists its "current members": "Rabiul, Taju Chowdhury, Rashid Chowdhury, Sayeed Mustafa Kamal and Kazi Shahid Hasan." The novelist Mahmudul Huq Botu (Botu bhai) declared solidarity, though he never contributed to the magazine. In the third issue, which comprises just four pages with blue, green and yellow geometric designs and only short poems, Syed Mustafa Kamal is missing from the list of members. A brief note declares that the movement is interested in exploring "hot media," a term popularized in the sixties by Marshall McLuhan, and affirms the principle, "Connectivity is beauty." A dedicatory note begins: "On the last Bangla New Year's Day we succeeded in robbing large numbers of female hearts." (The reader will recall my earlier observation about literary schools being male in orientation.) The dedicatee is one Swati Chowdhury who had outdone other females in her enthusiasm for Na. A personal note from Kazi Shahid Hasan provocatively declares: "It is my personal belief that in order to rescue poetry from its present grievous state we need to compose poems with the skeletal remains of (1) letters, (2) news, (3) detective stories, (4) novels, (5) advertisements, (6) adversarial thought, (7) the imagination, etc. Such poems may draw the reader."
A longer manifesto, promised for the fourth issue, does not materialize. However, the final issue is the bulkiest of the four, 89 pages, each page exactly five inches square, and containing only prose works by three listed members, "Rabiul, TajuChowdhury and Kazi Shahid Hasan" and an "outsider," Nazrul Kadir. Rashid Chowdhury is thanked for providing a reproduction of a tapestry by the French artist ClaudeBourdeau. Muhammad Khasru (another late lamented friend), the cineaste, who has been an enthusiastic fellow traveler of the group is thanked for contributing photographs.
Na attracted both encouragement and opprobrium. Abdul Mannan Syed mentioned it warmly in essays on little magazines; the late (Shaheed) Munier Chowdhury spoke about it in a lecture as well as in a TV programme. The denigrators took offence at especially at the use of obscenities. This is still a delicate issue in our part of the globe, and deserves careful critical examination. I wish to comment on a particular example from Kazi Shahid Hasan's "Arohan Mantra" (Mantra for Mounting) in the second issue:
"READ THE WRITING ON THE WALL
Everyone advises me to read the writing on the wall
Writings on the wall: Karim+Maya Belal Belal Belal….The future of the country is in your hand Please don't wank……"
The poem exploits an ambiguity. "The writing on the wall" is a warning of difficult times ahead. Punningly, it also may be taken to mean graffiti. Let us take the last piece of supposed graffiti. In Bangla it exploits a pun: Desher bhabishwat apnar haatey Haat marben na. As graffiti on a toilet wall it is amusing and nothing more. Transferred to a literary journal it is still amusing, but it also acquires certain resonances of both universal and topical relevance. The serious meaning of "writing on the wall" comes into play. We can interpret the line thus: You are contributing willy-nilly to building the nation's future, so it is advisable that you do not waste time on sterile pleasures. In the present context, as we face the dread prospect of an eco-apocalypse, pursuing consumerist pleasures is equivalent to the sterile delight of masturbation, and brings the catastrophe closer. One of the valuable lessons of a literary education is that it teaches us to dig beneath the surface of language and life and not to yield to knee-jerk Grundyish responses.
Na belongs to literary history. Four of those associated with it have passed away, one gave up writing, another is an NRB who no longer writes. Only Rabiul bhai is still active as a writer, poet, art critic, and head of an architectural firm. If I compliment him on his eventful life he of course responds with Na-ish self-reflexivity: "Nah!" He would do us a great service if he were to compile the issues of Na in an anthology.
Kaiser Haq is a poet, translator, essayist, critic, academic and a freedom fighter. Currently, he is the Dean of Arts & Humanities at the University of Liberal Arts, Bangladesh (ULAB).