Begum Rokeya's Non-sectarian, Pluralist-Inclusivist Imagination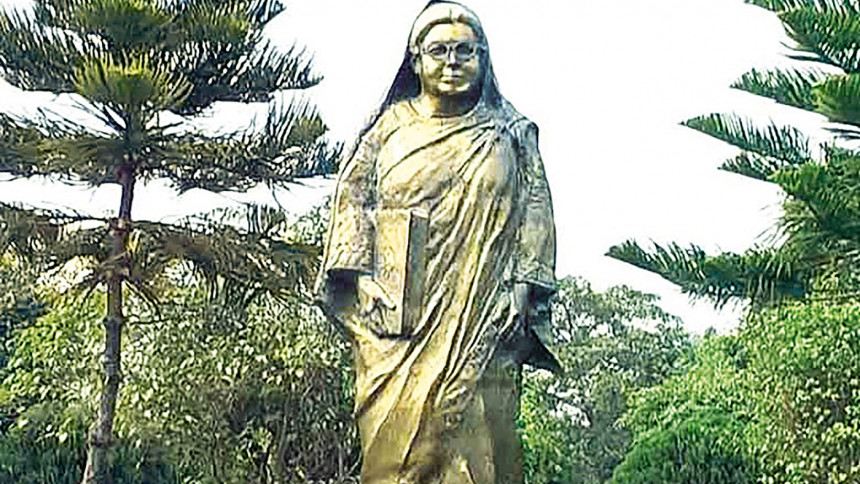 Bengali writer, educationist and pioneering feminist activist, Rokeya Sakhawat Hossain (1880-1932), popularly known as Begum Rokeya, was born at a critical juncture in South Asian history when hostility and bloodshed between Hindus and Muslims was a recurrent experience. It was the time of Swadeshi movement in Bengal (1905-1911) and later Gandhi's Swaraj (1919-1947), which although meant to overthrow the Raj and find India's independence, seized by the fanatics on both sides of the religious divide, often resulted in inter-religious strife and sectarian violence. Rokeya lived through the communal riots in Dhaka (1930), Kanpur (1931), Kashmir (1931) and Vellore (1930-31), to name a few, but her faith in the importance of Hindu-Muslim fellowship for building a modern, progressive, peaceful and prosperous India (and by extension, present-day Bangladesh) was not shaken by such dreadful incidents.
Rokeya was a practising Muslim, who recited the Qur'an regularly and prayed five times a day. Besides, she wrote primarily for Muslim women and set up a school in Calcutta in 1911 for the education of Muslim girls. Her foremost intention was to emancipate Muslim women from the clutch of repressive patriarchy that abused and exploited them by keeping them utterly ignorant as well as socially segregated and financially dependent on men. However, in attaining this goal, Rokeya never lost sight of the larger objective of the emancipation of all women, or the necessity of uniting all Indians for creating a holistic national identity.
When Rokeya opened her school in Calcutta, she had no clue about how to run a school as she had no opportunity of attending school in childhood. To gain experience in school administration, she used to visit several Brahmo and Hindu schools in Calcutta, where she came in close contact with leading Hindu Bengali educationists of the time, such as Mrs P.K. Roy and Mrs Rajkumari Das, who became her life-long friends. After Rokeya's sudden and premature death on 9 December 1932, a memorial was held at Calcutta's Albert Hall, where Indians of all faiths gathered to pay tribute to this remarkable woman. This commemorative event was chaired by none other than Rokeya's long-time friend Mrs P.K. Roy, who made the following remarks about Rokeya's cross-border cultural imagination in her presidential address (my translation from Bengali):
The more I saw her, the more I was impressed by her broad outlook. She knew that mere customs and rituals couldn't make a true faith; that which can elevate the human condition to a higher level was the only true and lasting religion.
. . . .
I always revered her,  because she embodied the image of a true Indian woman in every sense – whatever that is truly India, is what she cultivated all her life.
Indeed, Rokeya was a patriotic Indian who cultivated Indic values throughout her life. She considered herself first and foremost an Indian national. Thus, in her essay "Sugrihini" she explained, placing her national identity over and above her religious and ethnic identities (my translation):
We ought to remember that we are not merely Hindus or Muslims; Parsis or Christians; Bengalis, Madrasis, Marwaris or Punjabis; we are all Indians. We are first Indians, and Muslims or Sikhs afterwards. A good housewife will cultivate this truth in her family. This will gradually eradicate narrow selfishness, hatred and prejudice and turn her home into a shrine; help the members of her family to grow spiritually.
As aforementioned by Mrs P.K. Roy, Rokeya also believed that all religions were in essence one, as the objectives of all religions were to elevate the human condition and to establish harmony in society.  In "Educational Ideals for the Modern Indian Girl," Rokeya cites the Upanishads and the Bhagavad Gita, arguing that it is important for all Indians, despite their respective religions, to be aware of the Indian heritage of education and to assimilate the old while holding to the new. She explains:
India must retain the elements of good in her age-oldtraditions of thought and methods. It must retain her social inheritance of ideas and emotions, while at the same time by incorporating that which is useful from the West a new educational practice and tradition may be evolved which will transcend both that of the East and the West.
This statement is a clear evidence of Rokeya's syncretic imagination on two levels. First, she is asking all Indians to acknowledge their Indian identity and accept whatever is good in its indigenous education system. Second, she is advising them to look to the West for elements that would be of help to modernise the education system. Through this two-way process, India will retain its identity and yet become a modern society.
Rokeya also shows familiarity with Hindu myths and Puranic tales through Durga, Kali, Shitala and other Hindu goddesses in her work. Two of her essays, "Nari-srishti" and "Srishti- tawtho" are built on the Hindu Puranic tale of Tvastri's creation of the universe, in particular the creation of man and woman. The second essay has Hindu and Muslim characters, such as Jaheda  Begum,  Shirin Begum, Nonibala Dutta and Binapani Ghosh living under one roof, or at least spending the night together as friends. In "Nurse Nelly," again, we are told that the narrator, Jobeda, has a good friend, Bimala Devi, a Hindu woman, whom she goes to visit at the hospital every day when she goes to Lucknow with Khuki, her younger sister-in-law, for the latter's treatment. All these are reflections of how much Rokeya valued the unity of Hindus and Muslims for the creation of an interactive and shared Indian society.
In her essay "Griha," Rokeya gives examples from both Hindu and Muslim societies to show that all women in India are essentially "homeless," because no matter what caste, class or religion they belong to, they all have to live at the whim and mercy of men. Again, this shows that Rokeya was not concerned solely about Muslim women and their condition in society, but about all Indian women, no matter what community or religion they belonged to. She argued that Hindu women like Saudamini, Prativa and Rama are as much exploited and oppressed by males as are Muslim women like Hasina, Jamila, Mohsena, Hamida and Jobeda.
In "Nari Puja," Rokeya has four women conversing on the purdah system, two Muslims and two Hindus: Mrs Chatterjee, Kusum Kumari, Amena and Jamila. The women discuss how the purdah practice has plagued women for centuries in both religious communities, giving examples from both to show that men have treated women like animals, sometimes even worse than animals. When Mrs Chatterjee naïvely suggests that women enjoy the status of deity in Hindu society, Amena retorts, summing up the author's view in the piece: "Excuse me… the position of woman in this country is no better than a slave's" (my translation). Here, Rokeya's emphasis is not on women of any particular group, rather on all Indian women, which reaffirms her non-sectarian, non-communal, inclusivist outlook.
In her book Aborodhbashini, again Rokeya draws examples from both Hindu and Muslim communities to indicate that women in India have been dehumanised and commodified by a patriarchal system that has spread its roots through all Indian religious traditions. Thus, if Muslim women have to live a mute, abased, obedient and invisible life, with no control over their minds and bodies, remaining utterly dependent on their male counterparts for every business of life, this is also the condition of Hindu women, who are equally deprived of their selfhood and dignity. Forced to live an often abject and ignoble life, they exist totally at the caprice and clemency of their men. The book has 47 episodes, in most of which Rokeya  ridicules the excesses of the purdah practice in the Bengali and Bihari Muslim communities which deprived women of all opportunities of life, including education, personal and social freedom, as well as rights to work, wealth and inheritance, reducing them to subhuman creatures.
In "Prem-rahasho," an autobiographical story, Rokeya declares: "I have loved people of all religions – Hindu, Christian, Muslim – but why, I am not sure of it myself" (my translation). Although human nature is to instinctively love something attractive and beautiful, sometimes things not so beautiful can also fascinate us. Love cannot be circumscribed or compartmentalised based on race, language or creed. It crosses all borders. We are capable of loving another human being no matter what his or her cultural or religious identity is, whatever class or caste s/he belongs to, or how old or young s/he might be. To bear out this argument, Rokeya narrates three experiences of "sisterhood" from her own life: Her "love" relationship with Champa, an untouchable girl in Orissa; with Ms D, an English woman; and with an elderly woman from northern India, whom she describes as "my patient." The story documents how each of them came close to the narrator and meant so much to her, though Champa and Ms D were from different cultural-religious groups, and the elderly woman came from a different language and age group. These examples show that Rokeya not only advocated cross-cultural unity and inclusivity in her writings but also experienced and practised them in her personal life.
Rokeya wrote about a century ago, but her message remains as potent and pertinent now as ever. We know that the world has made significant strides in science and technology, but in matters of race, religion and gender we are still trapped in a "tribal" state. It has become a Sisyphean struggle for us to rid ourselves of chauvinism, parochialism and xenophobia, as is evident, among so many other recent incidents, in the brutal killing of a black man, George Floyd, by a white police officer in the US. However, Rokeya, in her prescience, imagined a pluralist-inclusivist world of cross-cultural amity, notwithstanding the adversities she lived through in her personal life; her worldview was characterised by the Upanishadic spirit of "VasudhaivaKutumbakam" (the world is one family), or a touch of cosmopolitanism.
Professor Mohammad A. Quayum has published 34 books and more than 140 articles in different areas of literature.His books on Rokeya include The Essential Rokeya(Brill, 2013) and A Feminist Foremother (Orient Longman, 2017).