200th Anniversary Issue
Austenland Revisited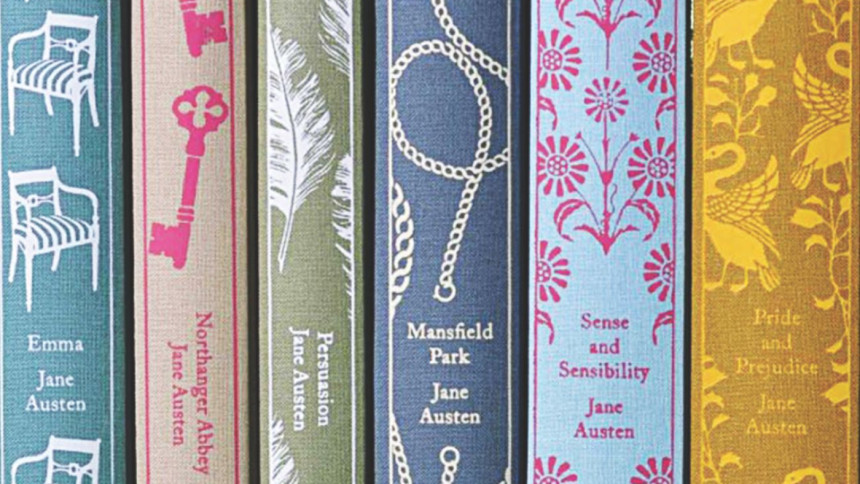 I advance towards the bookshelf, a pleasurable hum of anticipation running through me – today is that most rare of opportunities: an evening to myself with Jane Austen. The windows in the sitting room are open to the cool breeze of early evening as I revel in the unexpected freedom: no office emails to tend, the kitchen clean and silent, the children abed, spouse abroad. My fingers dance across the shelf dedicated solely to Jane Austen, the paperbacks well-worn with loving readings and re-readings – what shall it be tonight? A laugh with and at the Bennets at Longbourn? Adventuring with Fanny Price at Mansfield Park? Or the just rewards of patient Anne in Persuasion?
The Austen books on the shelf are now old friends but I remember how I first came to read and love Austen. I was thirteen, in class eight at South Breeze school. An avid reader, I lived in perpetual need of more fodder and actively swapped books with other like- minded bookworms in class. A friend who was as addicted to books as I am brought me Pride and Prejudice one day – I can still see the hard-cover copy with a peach-dust jacket that showed a regency lady looking coyly into the distance. I expected a period romance novel, with a conventional heroine, a brooding hero and a gothic castle or some looming cliffs – but oh what a delightful surprise! A most unconventional heroine, a hero who gets over his brooding habits and the stately mise en scène of Pemberley turned my expectations upside down – it was the beginning of a life-long love of Austen.
I still remember the first giddy reading, the burgeoning delight as I re-read Pride and Prejudice again and realized— yes! it really was as good as I had thought! There were wonderful weeks where my friend and I spent the tiffin break discussing our favorite parts of the novel, poring over plot-points – why does Jane go alone to London with the Gardiners, why is she not accompanied by Lizzie, who would have set Caroline Bingley straight! We loved, too, to imagine the delicious possibilities of life at Pemberley and how Elizabeth would have breathed energy into the old pile and lady-ed it over her arch-nemesis, Lady Catherine De Burgh. And best of all, Pride and Prejudice was just the 'gateway drug' – I soon found other jewels of the Austen canon in the dusty bookshops at New Market and Nilkhet and set about getting better acquainted with my new friends.
Twenty-five years later Jane Austen is still an active part of my reading life. How I read her work has subtly changed through the years, alongside the changes in my own life. In my early twenties, observing the matchmaking in Dhaka's marriage mart, Mrs. Bennet suddenly seemed all too real, her comical obsession with marrying off her daughters not dissimilar to society matrons I knew. I had more insight into Fanny Price too, and the pressure on a young woman to accept a wealthy suitor and lift her family's fortunes. In my thirties, I appreciated anew Anne Elliot, seeing her faithfulness and deep love for Captain Wentworth from the prism of maturity.  Reading and re-reading Austen, I have always found something new: a phrase or paragraph that takes on new meaning, a character's behavior that takes on additional nuance in the light of my own life experience.
Austen too continues to be ubiquitous in everyday modern life. Adaptations of her work are continually on television and film and have spawned many works of fan fiction including a host of sequels to Pride and Prejudice, Persuasion and Emma. In 2016 alone, there were three Jane Austen- inspired movies at the box office: Love and Friendship, based on Austen's epistolary novel Lady Susan, and two films inspired by Pride and Prejudice, Bridget Jones's Baby and Pride and Prejudice and Zombies (really, Austen and zombies? zombies!). Altogether,  the three films have grossed over $250 million worldwide. And before you ask - yes I proudly saw them all at the theatre, some maybe more than once.
As I reflect on my lifelong relationship with Austen, I realize that over the years reading the author has influenced my reading habits and how I think about the world. It has set a standard by which I measure the pleasures of reading – Austen's wit, keen social eye, the beauty of a deftly turned phrase, the deep humanity of her characters – are all elements I have learned to savor and seek in a favorite book. Her heroines too embody and reinforce the virtues of my Bengali upbringing: modesty, honesty, an appreciation for music, art and literature, a principled choice to live morally despite the temptations of ease and wealth. While my day-to-day life is far from that of a Catherine or Emma or Elinor, like any lover of Austen, I like to think myself as a potentially worthy Austen heroine – after all are we not all the heroines of our own life-stories? I'd like to think Jane Austen, beloved author, would approve.
In the meantime, tonight my fingers stop on Persuasion and I pull the book from my bookshelf – tonight I will spend time with Anne Elliott. Like a cool, refreshing draught of water I cannot wait to taste Austen again; a familiar but infinitely renewing pleasure awaits.
Shafina grew up in Dhaka loving books, chotpoti and stray animals but now lives in Brooklyn with her husband, two children and some cats. Currently, she works in finance.